I was given this vacuum for review purposes. All opinions are my own. Your may differ. This post contains affiliate links.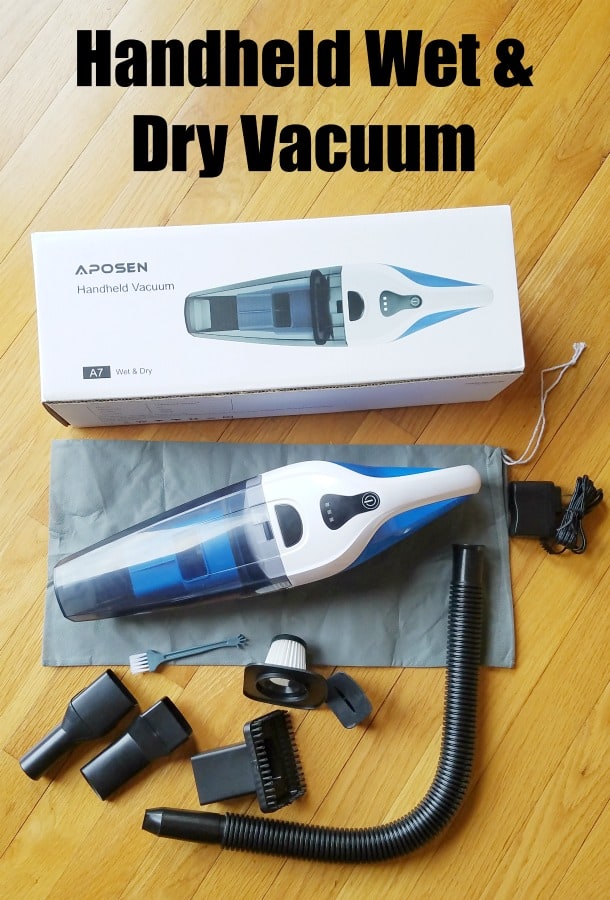 It's a new year and I've got the itch to clean, declutter and throw everything away. One easy way I'm getting that done is with my new vacuum –
APOSEN Handheld Vacuum Cleaner with HEPA Filter. This vacuum is really fun and I'll tell you why. There are so many great features of this handheld vacuum that I'm loving. 
The amazing features of this vacuum are:
Durable use in wet/dry conditions. Next time my basement floods, I know what I'm using to help clean it up!
Washable Hepa Filter with a pre-filter case, designed to maintain unclogged powerful suction.
Plus, a free Hepa Filter replacement.
Fully charge the battery in 4.5 hours.
3 serviceable attachments to save your time and improve cleaning efficiency: the rubber nozzle can handle the liquid mess, the crevice nozzle can get rid of crumbs in tight spaces, and the brush nozzle is for pet hair.
Hand Vac A7 can operate at low frequencies below 70dB
I'm really excited to have this handheld vacuum help make cleaning my stairs and my car a lot easier. A smaller vacuum gets into smaller places and I can't wait!
The crevice nozzle helps get into tight cracks like the stairs. With four kids my stairs tend to get crowded with crumbs really fast. I love that this vacuum fights neatly into the crevice of my stairs. The vacuum is not very loud, so I can even do this while my toddler naps.
My van gets dirty fast! Not just because of the kids and their crumbs, but also all the dirt our shoes bring into the car. Bring out my handy dandy handheld vac and I'm good to go with cleaning floor boards, chairs and car seats. This is so exciting!
Giveaway
I'm so excited to offer one lucky reader this same handheld vacuum! This giveaway is open to US residents ages 18+. The giveaway will run January 6 – January 13.
a Rafflecopter giveaway