Disclaimer: I received this product free for review purposes. If you click any links in this post you will be taken to the sponsor's site. All opinions are my own. Your opinion may differ.

With Spring in full bloom (in some parts of the country, we just got snow last week) we have been thinking about plants and new growth. We were very excited to participate in this "Grow a Hedgehog" kit from Creativity for Kids.
The first step was to paint your hedgehog. The instructions say the paint is permanent so my daughter put on her special paint shirt. The kit comes with three different paint colors: black, white and brown. You can mix these colors to get different shades for the hedgehog's body. The kit also comes with a sponge to dab on the paint and a brush for the black to make the quills, smile and paint it's nose.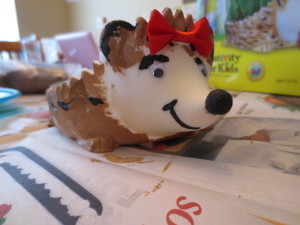 Once you are done painting, then it's time to glue on the hedgehog's eyes and bow. We decided to make our hedgehog a girl. Then through following directions we filled the base with dirt, sprayed it with the included spray bottle, planted the seeds and topped off with more dirt.
In 3-5 days the grass will begin to grow, if you have any shade of a green thumb that is. We however, do not posses a green thumb, more like a brown thumb, so ours is not growing (or could it be that 2 days in my husband dropped it on the floor and thought that if he swept it up and put it back in the hedgehog all would be well?) There is enough dirt and seeds for us to start over, so no worries! I'm sure we can succeed at this!
Anyway, Creativity for Kids is giving one reader their own Grow a Hedgehog kit! This giveaway is open to US residents ages 18+. Winners will be verified and emailed. This giveaway will run from May 9 – May 23. Enter through the rafflecopter below. Good luck!