Disclosure: I received a free product sample for review in my Holiday Gift Guide. All experiences and opinions are my own. Yours may differ.
At my house we find the As Seen On TV commercials very entertaining, but we don't ever buy the items because we don't believe their claims. The GoGo Pillow, however, is amazing! I LOVE it so, so much. This 3 in 1 pillow has multiple uses.
First, use the pillow for relaxing at home. This pillow fits most most tablets including the iPad, Mini iPad, Samsung Galaxy Note, Kindle Fire, Google Nexus 7 and more. The pillow has small and large corner pockets to accommodate many sizes of tablets. The pillow also forms to fit whatever surface it is sitting on. I love this because with my case for my Nexus it doesn't balance on the arm of my couch very well, but I put my tablet in the GoGo Pillow and sits there just fine.
Second, attach the GoGo Pillow to the back of a car headrest for watching on the go. Put a movie on your tablet and put it into the GoGo pillow attached the to headrest and all the back passengers will be entertained.
Third, transform the GoGo Pillow into a travel pillow in seconds. I was a little skeptical about this but it works and is really easy it do.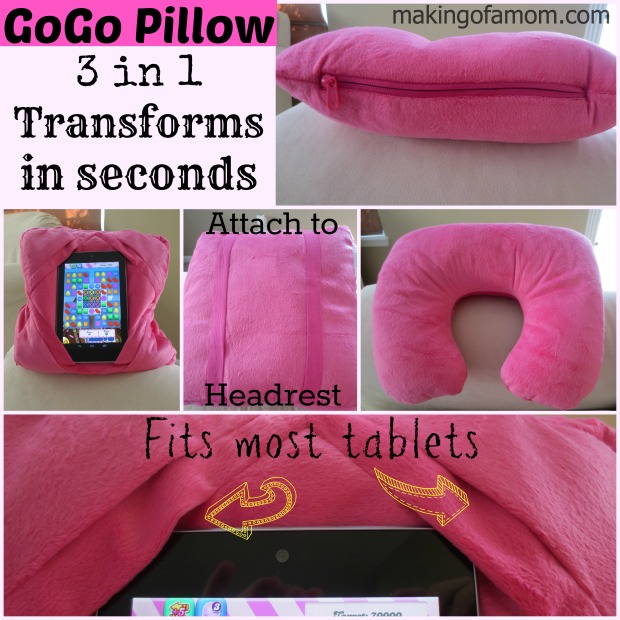 Right now there is a BOGO offer for the GoGo Pillow. When you buy one you get one free. Visit the GoGo Pillow site to purchase a pillow for $19.95 plus processing and handling and get a second free (must pay processing and handling). There are 11 different colors to choose from. The GoGo Pillow would make a great gift for anyone you know that owns a tablet!