Disclosure: I received a free product sample for review in my Holiday Gift Guide. All experiences and opinions are my own. Yours may differ.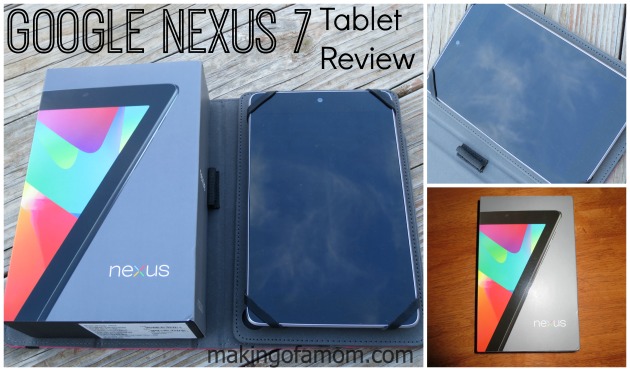 Getting Started
Open the box.

Plug it in.

Turn it on.

Sign in with your google account.

And you're done, it's that easy to get started with the Google Nexus 7 Tablet.
I want to thank Rakuten.com Shopping for sending this Google Nexus 7 for review. It is super easy to use right out of the box! Once you are signed in with your google account you have the choice to sync the tablet with your email, calendar, contacts, document, pictures, your everything. And if you have an Android device it will even sync your background image.
Having Google Docs on your phone is good for referencing what you have in there but as far as creating or editing documents it's kind of hard. But Google Docs on a tablet makes things a little easier, especially it you have a bluetooth keyboard. Combine that with being able to use multiple google accounts on the tablet, and it's one of the nicest features on the tablet. Being the super blogger that Stefanie is she has a personal gmail account, and one for the blog. If she wants to switch from working in her personal Google docs to the blog Google docs all she has to do is go to the email app switch to the other account and then go back to Google docs. This gives you access to all your stuff on little handy device.
We love using the Nexus for Skyping and since we don't live close to any family we Skype a lot. With a laptop we either have to Skype at the kitchen table or setup a little table in front of the couch, but with the Nexus we can take it where ever we want. Now it's no problem for the kids to "take" Grandma to see their latest project or favorite toy. I really like the size, I can comfortably hold it one hand, and I'm not afraid of the kids holding to their Skype show and tell.
Around our house we are used to playing games and watching shows on phones, but doing those things on a tablet is far superior. Playing games on tablet is a lot of fun. A game that I really like is a jet ski racing game where you can use the tablet as a steering wheel (that's where the accelerator comes, that's what knows when the tablet turns to the left to turn the racer car to the left). I like playing video games but I am by no means a hardcore gamer, so if I am playing a racing game and I don't turn soon enough I usually run into the wall. But on the table I am able to turn the table a little more and avoid hitting the wall.
It is really fun to watch movies and tv shows on the Nexus and the picture quality is excellent. We use Netflix on the tablet all the time, the kids love snuggling up in a comfy chair and watching their favorite show (Mom loves doing that too).
The battery life is really good. In the Tech Specs below it says 'up to 10 hours' and as far as we seen that has been true. But even when it does need to be plugged in recharges quickly.
The Nexus is the fastest device at our house. Some of our electronic devices are new and some are hand me downs, but the Nexus stands out in speed. The speed of any electronic device is determined by the CPU or processor, which is the brain of the device. The Nexus 7 has a quad-core Nvidia Tegra 3 processor, which means it has four brains. Most tablets before the Nexus only had a dual-core processor. The computer that I am using only has a dual -core processor. So the Nexus processor is fast, but what does that mean. Here is what I found that best describes it:
Smoother Web page scrolling; … faster Flash performance with higher frame rates and smoother animation; smoother steaming-video performance; up to three times faster HTML5 and Web GL performance; faster photo editing and video encoding; and smoother frame rates, and more particle and shad[ing] effects in games. [SOURCE]
Overall we are very pleased with the Nexus Tablet and if you are in the market for a tablet we highly recommend it. Rakuten.com Shopping was generous enough to send this tablet to me for review. Through dealing with them I have come to find that their customer service is impeccable and they aim to please! When shopping online this holiday season be sure to visit Rakuten.com Shopping because their prices are great and their variety vast!

Tech Specs (Technical Specifications)
Features
1.2MP Front-facing camera
– perfect for taking selfie's
Microphone
– used for Sykping, voice to txt, and asking Google Now why is the sky blue
NFC (Android Beam)
– send web pages, maps and files to other Android devices by putting them back to back
Accelerometer
– you can use the tablet as a steering wheel when you are playing race car games
GPS
– used with google maps to give you directions
Magnetometer
– it's basically a compass inside the tablet
Gyroscope
– when the tablet is rotated from the portrait position to the landscape position the screen rotates
Screen
7" 1280×800 HD display
– watching movies and tv shows on the tablet will look almost as good as your HD TV
Back-lit IPS display
– the screen color is really good; the whites are white, the blacks are black, etc….
Scratch-resistant Corning glass
– it's ok to let your kids use the tablet sometimes
Battery 4325 mAh
– up to 10 hours of battery life
Size 7.8 x 4.7 x 0.4 in
Weight 0.76 lbs
Wireless
WiFi 802.11 b/g/n
– medium (b), fast (g), faster (n) internet speed
Bluetooth
– connects things like a Bluetooth keyboard to the tablet
OS (Operating System) Android 4.1 (Jelly Bean)
CPU Quad-core Tegra 3 processor
– the brain of the tablet, or in this case the four brains
Memory
16, or 32 GB internal storage
– for the 16 GB version, it's the equivalent to 400 games or 4000 songs or 5-6 movies
1 GB RAM
– how fast apps can opened and used
Here is an Easter Egg I found for Android tablets including the Nexus 7. Go to:

Apps → Settings → About Tablet

Quickly tap the 'Android version' . A giant jelly bean will appear on the screen.