Disclosure: I received product samples and compensation for including Farm Rich in the Back to School Event. All opinions and experiences are my own. Yours may differ.
If you are familiar with the frozen food isle at your local grocery store, you might have seen the Farm Rich frozen snacks. Perhaps you have ever tried a few of their offerings. Farm Rich has an amazing line of frozen snack foods, appetizers and new to the line up Smokehouse BBQ meals.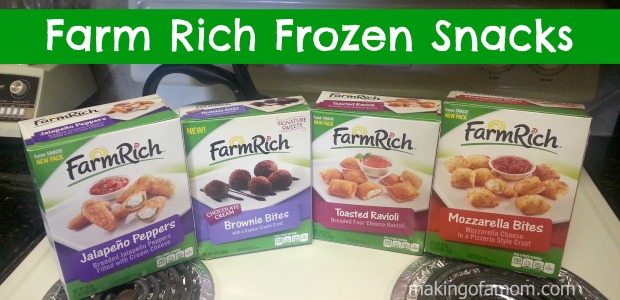 Recently, at a family reunion in the mountains of Colorado I thought it would be fun to share several varieties of the snacks with my whole family. Loaded with free product coupons I was able to find a fun selection of snacks to choose from in the frozen food aisle. You can check out the Farm Rich product finder to see what stores near you carry these products. We decided to try the Jalapeño Peppers, Chocolate Cream Brownie Bites, Toasted Ravioli and Mozzarella Bites. Look at how many great products they have.
 The biggest thing I noticed with the snacks is that the ingredients were high quality. The snacks tasted so good. Sometimes frozen food doesn't seem fresh or taste great, but Farm Rich snacks were delicious. Another great thing about Farm Rich snacks is that you get TONS in each box. The snacks aren't very expensive, less than $6.99 on average, and you get a ton of food in each box.
My whole family was so excited for the delicious snack time about to happen. Since they all knew this was for a blog post they all felt it their duty to let me know what they thought of each snack. I think the fact that they all got gobbled up pretty quickly told me all I needed to know! They LOVED Farm Rich snacks. The most popular of our snacks was the Mozzarella Bites, which tastes like little pizzas really. I enjoyed dipping the Mozzarella Bites and the Toasted Ravioli in ranch dressing, but I'm a saucy person! I had never had a Jalapeño popper type snack before so I couldn't really judge those, but other family members loved them and said they were really good compared to others they had tried previously.
To end on a sweet note, this cute boy of mine loved the Chocolate Cream Brownie Bites. These were fun because they had a gooey surprise in the middle of the brownie. The Brownie Bites are a promotional item that will only be available in Walmart for a few more week, but have no fear. Farm Rich Snacks also has some Apple Pie Bites that look amazing!
Giveaway Time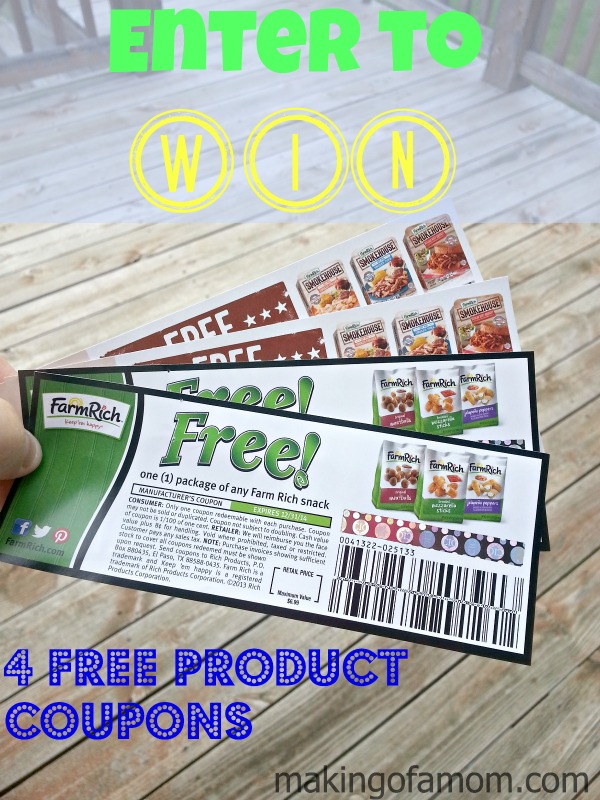 Farm Rich is giving one lucky reader a 4 pack of FREE product coupons so you can try out your favorite snacks and the Smokehouse BBQ items! This giveaway will run from July 31 through August 9. Giveaway is open to US residents ages 18+. Winner will be verified and have 48 hours to respond to winning email before a new winner is chosen. Good luck!