Disclosure: I received a free product sample for review purposes. All experiences and opinions are my own. Yours may differ.
When I was little, we are talking younger than 4, my parents own a photo developing store. Next door to that store was a popcorn shop. My parents would buy bags of popcorn for my siblings and me to snack on while we hung out at the store and my parents worked. The popcorn store had all sorts of flavors of popcorn. I don't have too many memories of this time, but there are several pictures of my enjoying a rather large bag of popcorn. I don't know if these moments of my young life helped instill a love of popcorn, but they sure helped!
Now that I am grown, married and have kids of my own, popcorn is one of my family's favorite snacks! We love to nibble on popcorn during movies, watching shows or when playing games. We also have enjoyed a couple different flavors, but nothing super adventurous. When I first started talking with Brooklyn Popcorn I noticed they had a lot of interesting flavors so I decided to be brave and get some bold choices to review! Check out the AMAZING array of sweet and savory flavors you can choose from!
In my tin I got Garlic Parmesan, Sour Cream and Chives and Chicago Mix (which is caramel and classic cheddar). I LOVE the Chicago Mix, the sour cream and chive was good but I leave the garlic parmesan to my pasta noodles. Ha ha.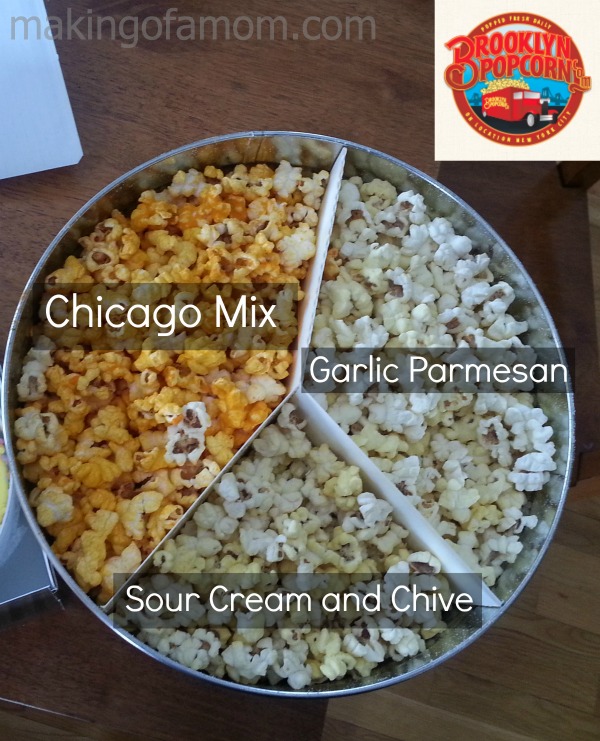 Ordering popcorn tins from Brooklyn Popcorn is very easy. You can select your tin size and all the flavors you want right on the site. They even have occasional specials so you can save a little money on your crunchy snack.
Did you know that Brooklyn Popcorn also has a truck?
Our delicious popcorn is made fresh – all day, every day – seriously. Your gourmet popcorn is made to order and is shipped the same day it's popped. Is that fresh or what? We take our gourmet popcorn passionately, right from choosing the perfect popcorn kernels to adding the best and freshest ingredients around. We guarantee that each bite will always be as good as the last one and every bag will always taste like you got it off our popcorn truck in the streets of New York.
If you are lucky enough to live in Brooklyn, NY than you can order your popcorn fresh off the truck! How cool is that?
From the distribution of popcorn to the variety of flavors, Brooklyn Popcorn is unique and special in such a good way! Enhance your holiday celebrations with a fun flavor of popcorn, give the gift of fresh delicious popcorn or splurge on a special treat by ordering a Brooklyn Popcorn tin.
Socialize with Brooklyn Popcorn on their Facebook page or follow them on Twitter. You can also sign up to receive the Brooklyn Popcorn newsletter which will give you special offers and updates straight to your inbox!
GIVEAWAY TIME
Brooklyn Popcorn is giving one lucky reader a $20 Gift Card so you can try their fresh, gourmet flavored popcorn.
Giveaway runs from April 12 – April 22. Open to US residents ages 18+. Winner will be verified, emailed and have 48 hours to respond before a new winner is chosen. Good luck!