Disclosure: As a Tommee Mommee I received product samples of the Explora line for review purposes. All experiences and opinions are my own.
I love Tommee Tippee products, so I really enjoy being a Tommee Mommee and on the list to try the new products as they come out. Recently a big box of Tommee Tippee Explora products showed up on my porch. I was super excited to dig in and try out some great products!
The Explora line of products is the perfect tool to help transition your baby into the self feeding stage. With no spill cups, bibs designed to catch falling food from self feeding babies, self feeding bowls and utensils and place mats to hold bowls in place, this line is perfect for my 18 month old.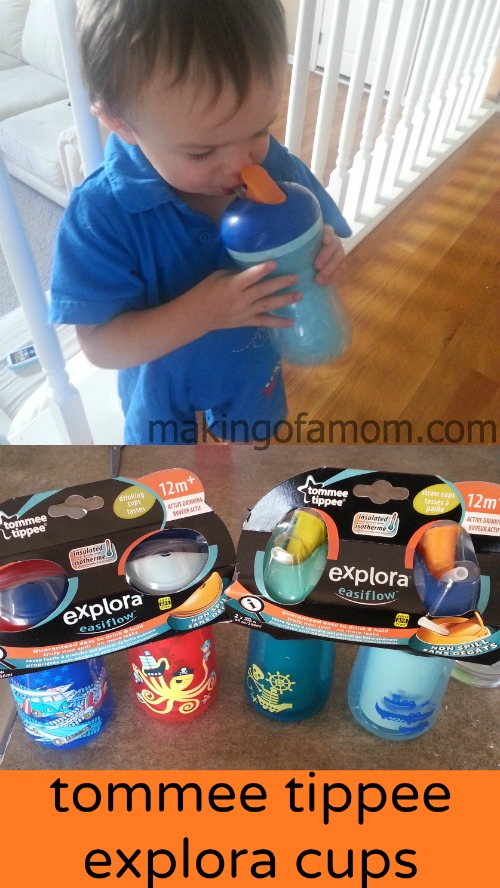 The Explora cups are super because they are truly no spill. There is a soft spout spill proof cup and a straw cup. I love that the straw retracts to keep it sanitary while traveling. My 18 month old is learning about straws. He still gets confused and tries to tip the cup so I really love these nautical themed straw cups.
My favorite item out of the explora series is the easy scoop bowls with snapping lid and attached spoon. My baby loves to feed himself yogurt so this bowl makes it a lot easier. With the triangular bowls it is easier for him to scoop out the yogurt against one of the angles. These bowls are perfect for travel because the snap lid and attachable spoon make it easy to take on the go!
If your house is like my house then you have kids throwing bowls and plates! Well say goodbye to that with the Easi-Mat! This mat grips the bowls and plates and makes it so your child won't throw them. I LOVE this because my baby has a habit of throwing things off his tray when he is done . No more throwing bowls with the Easi-Mat.
The Explora bibs are great because they catch falling food. They are made from a soft material that makes rolling up for travel very easy. This will roll up and fit into a small space when you are packing for your trips.
The feeding spoons are perfect for little hands learning how to hold utensils and feed themselves. They are the perfect size for my baby's mouth as well.
Tommee Tippee had transitioning babies in mind with the Explora series!
Giveaway Time
I am going to be giving away the Explora Bibs and Feeding Spoons to one lucky reader. This giveaway will run from July 14 – 21. It is open to US residents ages 18+. Please enter through the rafflecopter below!