I received complimentary admission into Exploration Tower as part of my Tuckaway Shores getaway. All opinions are completely my own.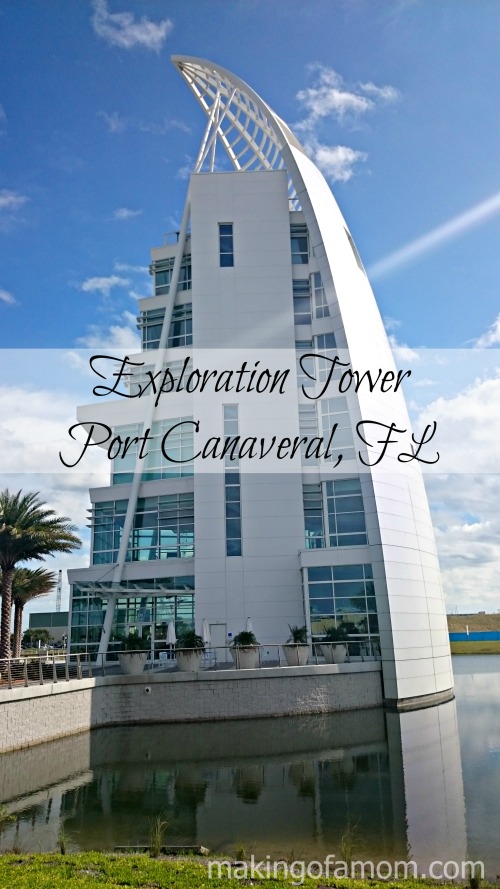 An iconic building in Port Canaveral is the new Exploration Tower built in 2013. This $23 million dollar building features 7 stories including an observation deck, various exhibits, an auditorium, cafe, gift shop and event space. The Exploration Tower was built to give cruise passengers a close place to visit and learn more about the history and culture of the area. Surrounded by restaurants and up and plans of coming shops, hotel and a new cruise port, this area is booming!
Entrance into the Exploration Tower is very inexpensive with adults costing a mere $6.50 (non Brevard county resident), adult residents pay $4 and children $2.50, though the tower has tons of discounts available as they want as many people as possible to visit.
When you first walk into Exploration Tower you are greeted with this amazing art sculptures hanging from the ceiling. This entire sculpture is made from trash collected from the ocean. It is so fun to sit below and study the pieces. Inside the whales you will find hangers, plastic bats, toys, kitchen tools and more. It's like an "I Spy" game. It is beautifully created and really makes visitors focus on how they can help preserve the ocean and not contribute to the garbage that ends up there.
We started our tour on the 7th floor which is the observation deck. There is a small enclosed area for you to look out if you don't care for heights and want to stay away from the edge. The outdoor platform is gorgeous and circles the entire tower. This deck offers stunning views of Port Canaveral and the nearby restaurants. We were lucky to see two cruise ships docked at the time. Walking around the observation deck you will also see some marine animal statues and 360 degree views. It is incredible!
I chose to use the stairs to start my descent on each floor. Each floor has a different theme with exhibits, pictures, sculptures and other artifacts to help educate and inform. I was very impressed that several of the floors had hands on interactive displays making the Exploration Tower enjoyable for children as well.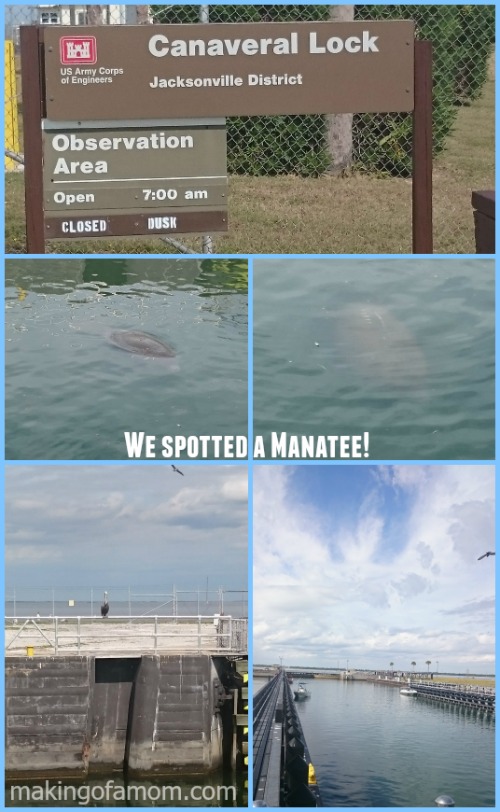 Down the road from the Exploration Tower is a hidden gem not advertised. The Canaveral locks! There is a fun viewing spot to watch the boats go through the locks, see birds and maybe a manatee or dolphin! We were lucky enough to spot a manatee making its way through the docks.
Since Florida is a great place to spot wildlife, you can consider taking a Dolphin & Manatee sightseeing tour. I was so impressed with tons of wildlife I saw just from driving around. There were tons of different types of birds. We saw crocodiles in the water canals on the sides of the road. Florida is definitely the place to see some great wildlife!
I'm so glad that Florida is building up Port Canaveral and making it more of a tourist destination. Since Port Canaveral is the second busiest port in the world it will be nice to make it a destination in itself for all of the travelers passing through.