This post has been sponsored a Children's Mercy Hospital Mom Ambassador. All opinions are my own. Your experience may differ.
When it comes to giving your kids medicine, each medication is a little bit different. It is always a good idea to be cautious when giving your kids medication. Not only can dosing incorrectly affect your child in the present, but in can affect your child in the future.
Currently, Children's Mercy is exploring a new platform, aptly called GOLDILOKs, that helps doctors find the right dose for treating leukemia, ADHD and other medical diagnoses. The platform integrates patients' medical records to provide real-time results, allowing physicians to simulate a dose based on the desired effect for the patient. You can read further about GOLDILOKs here.
The "Goldilocks" approach of getting it "just right" in the case of administering medication is at the core of Children's Mercy expertise. Every employee is trained to treat kids, which includes specific knowledge for prescribing the right amount, frequency and regimen for any medication or treatment.
Here are some tips for properly medicating your child.
Growth Affects the Dosage
Primarily, pharmaceutical companies are basing the dosage of a medication off the growth and development of a child. They are using a generalization to determine a dosage that is based on the norm growth chart. They look at height, weight, and body mass when determining the dosage amount to put on the back of the bottle. Therefore, when you look at the back of the bottle, and see your child's age, you will also want to look at the averages for that age.
Always Give Medication Based on Child's Weight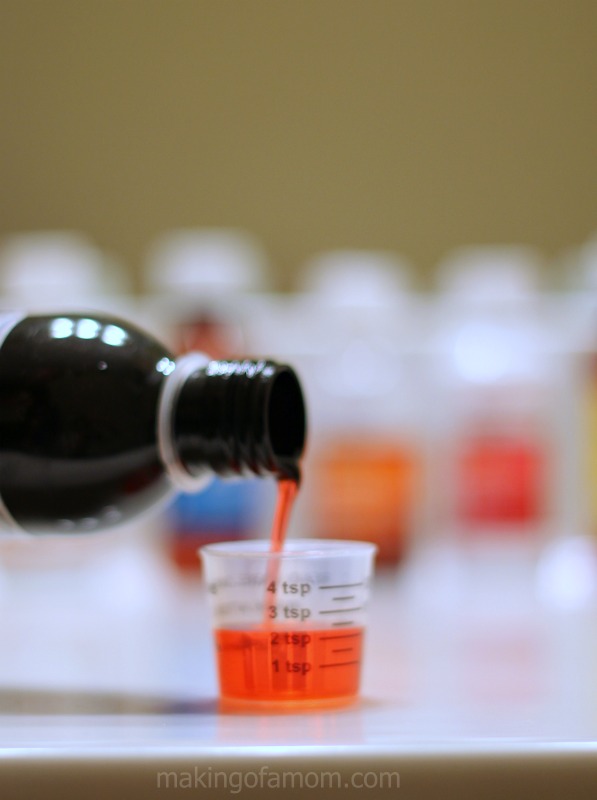 If there is a chart that says 5ML for a 2-year-old at 25 pounds, but your child only weighs 20 pounds, you will want to go with the dosage that is closer to his or her weight. The amount of medication to give is determined based on how quickly it will get into your child's system. This means a 20-pound child will need less medication than a 25-pound child.
You Can Overdose Your Child Without Knowing
Let's say your child has a cough and a fever. Many times parents will give the child the cough medicine then give them some Tylenol. You must be careful when your child has multiple symptoms. Just because they have multiple symptoms does not mean they need multiple medications. Many times, cough and cold medicines already include Tylenol, so if you give your child both the cold medicine and Tylenol, they could have a Tylenol overdose. Check the back of the bottles to ensure you are not doubling a dose.
A helpful tip includes writing down the times that medicine is given. This especially helps in cases where you might be alternating Tylenol and Motrin. Keeping a record will insure that the medicines are administered with correct time between them.
Genetics can Affect the Dosage
Everyone's genetic makeup is different. In fact, one dosage of a certain medication may be fine for one child whereas the same dosage may drastically affect another. New studies have shown that it may be wise to get Pharmacogenetics testing. This testing helps doctors determine the following:
Whether a medication may be an effective treatment

What the best dose of medication is

Whether the child will have serious side effects of a medication.
When figuring out a medication and dosage for your child, the best strategy is to talk with your doctor. As Steven Leeder, director of clinical pharmacology and therapeutic innovation for Children's Mercy, says, "(We're) interested in making medications more effective for kids. People try to scale adult data for kids. … How would you scale a dose from a 70-kilogram adult to a 1-year-old?"
Remember there are some medications that aren't appropriate for children. If you are unsure of a medication and whether or not you should give it to your child, call a healthcare professional.
For more health topics focused on families visit the
Children's Mercy Mom's page
. You can also get social with Children's Mercy Hospital on
Facebook
and
Twitter
.