This post contains affiliate links. Should you purchase through the link (at no extra cost) I will receive a small commission.
'Tis the season for some fun ornament crafting. Once you finish the
Santa Belly Ornament
, you can start on this darling
Glitter Blub Ornament
. This one is very easy so perfect for kids to make their own. Just beware of glitter getting everywhere!
To get started, here are the supplies you need.
Supplies-
Empty plastic light bulb ornaments
Extra fine glitter
-red and green
Liquid glitter-it
3/8″ ribbon
Directions-
1. Take the tops off of your lightbulb ornaments
2. Squeeze a little bit of glitter it into your ornaments
3. Turn your ornament from side to side and upside down to make sure the whole inside is covered
4. Pour a little bit of glitter inside of your ornaments, put the tops backs on and shake to make sure the inside is completely covered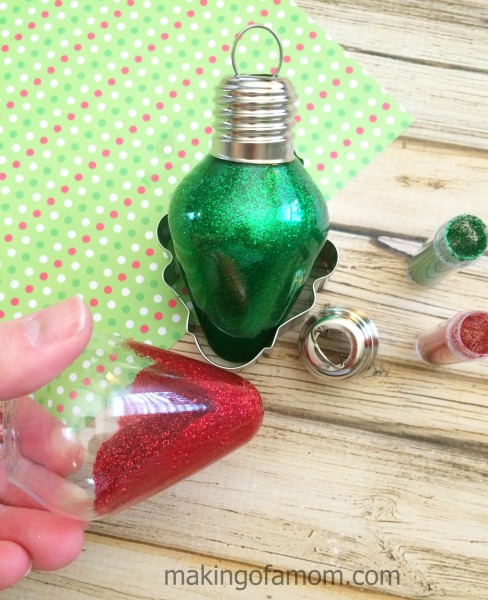 5. Tie a piece of ribbon onto the top of your ornament so you can hang them on your tree
Isn't this so cute? I think this is a darling ornament idea. You could also make several and string them on ribbon as a garland!