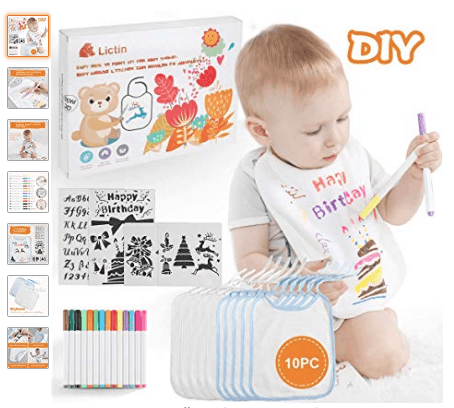 DIY kits are my jam! I love having a product that has a purpose to become something, but I get to mostly create it! This DIY Bib Kit is one of these fun things that I love!
This fun set includes 28 pieces including 10 bibs, 14 markers, 4 stencil sheets and a fun time creating some darling bibs. I would love this set because I know my kids would all want to get in on the designing. While I'm sure a couple of my kids would like to use the stencils, I know at least one would like to create her own designs and characters. What would you create?
Want to get a discount on the bibs? GREAT! Get 20% off with code N2ZK43IO. Offer expires 10/31/2019
I'm really excited to announce I'm giving away TWO sets of these DIY Bib Kits! The giveaway will run from 10/18 – 10/28. This giveaway is open to US residents ages 18+. Good luck!