Disclaimer: My family and I were given a media rate to attend Dolly Parton's Stampede and write a review about it. All opinions and experiences are my own. Yours may differ.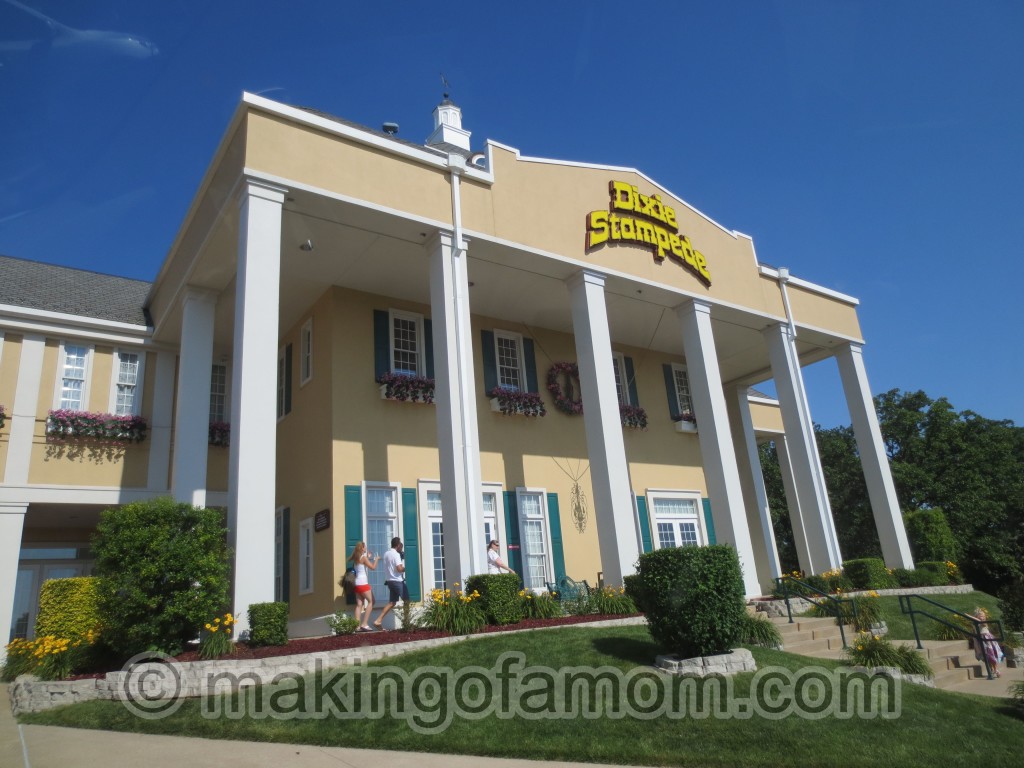 Driving down highway 76  (the main street through Branson) you stumble upon this lovely theater where Dolly Parton's  Stampede dinner show is playing! When you are driving east on the 76 and you drive over a little hill you get a fantastic view of the theater as you come upon it!
Once you park your car behind the theater you then get to enjoy a walk along the horses, which are the true stars of the show! My kids had such a fun time reading the horses name and watching them eat as we walked by.
Once inside the building you are whisked off to take a family picture and then get to enjoy a fun little pre-show. The pre-show was juggling, which was very entertaining to the kids. They had a very talented person doing some amazing juggling and balancing acts for the large crowd. At this time you are able to get a snack from the snack bar and sit and enjoy the pre-show. Since we knew we would be sitting for a while during Dixie Stampede we chose to keep the kids standing up during the pre-show. They could also see better that way since there were so many people in the carriage room.
Once the pre-show ended we were free to find our seats inside the arena. The seats are assigned by section. We were lucky enough to be the first ones in our row so we got to move all the way to the middle and sit. We were 3 rows up and it was perfect. As we were sitting watching everyone else take their seats I mentioned to my husband I was concerned about being so close to the show floor because of all the dust the animals were going to kick up. Plus, this is a dinner show, I didn't want dust on my food. As if the announcer could read my mind, he addressed the dust issue saying that Dolly Parton's Stampede prides itself on being dust free. This immediately calmed my worries about that and I could sit back and relax.
This little video will give you a good look at what the eating experience is like:
When the lights dimmed and the show started we were all very excited. They have several clever songs to sing about how Dixie Stampede works and how supper time works. It was so funny. My daughter couldn't believe as we started getting food that she was going to have to eat with her hands. Her eyes were wide and I think she thought I was crazy for allowing this! haha I showed her how to dig into her chicken with her hands and then she really enjoyed herself! One thing I thought would be a great improvement to the system is to have some antibacterial soap for everyone. As I was looking at my dinner and my hands, I was wishing I could wash them. Having a little squirt of antibacterial soap would have made me feel a lot more comfortable with the situation.
As the 4 course meal went on and on I couldn't believe how much food was being served! As you see in that little movie, there is a lot of food coming. My daughter did a good job and at keeping up with all the food. I was proud of her for at least trying everything she was given. My son (who turned 4 the next day) didn't touch a thing. Oh well!
The whole premise of the show is based on the Civil War with the North versus the South. Most of the acts are basically little competitions to see who will win, the North or the South.
Dolly Parton's Stampede show is very funny and VERY entertaining. My kids were stomping their feet, clapping along, shouting and singing and everything else! They loved it. Even my 5 month old baby didn't make a peep during the show. He watched in wonder at all the animals, costumes, lights and all the action!
Some of my favorite parts included the little piggy races. They were so cute! The lunmber jack portion of the show was so exciting! Climbing the "tree", chopping a log and running on a log in water was so much fun to watch! One of the acts was when a lady chosen from the "audience" was asked to get into a barrel and they mixed the barrels up (kind of like the ball under shells and you mix them up) and the host for the evening tried to find her. It ended up being a magic trick with the lady never being the barrel you expected. It was pretty fun! I still don't know how they did it! 😉 The costumes were very fun. Some of them even lit up. My daughter of course loved that. And the  beautiful "Southern Belles" with their lovely dresses. My husband loved the act that included a woman dressed as a bird and she danced a lovely dance and flew around the arena on a wire. It was a tribute to the Native American history in the area.
I love that Dixie Stampede is interactive. Several of the acts throughout the evening included members from the audience. Kids and adults both got to participate in the fun of the evening. It was fun to watch these people get so into their games.
For the rest of our trip in Branson everything was compared to Dixie Stampede. All the restaurants we ate in and the other shows we watched. Whenever we would drive by the theater my son would ask if we could go again. It was fun to start our Branson weekend with the Dolly Parton's Stampede, but nothing else we did could compare to the fun we experienced there. We LOVE this attraction and definitely recommend it. When you visit Branson, Dolly Parton's Stampede is a MUST!