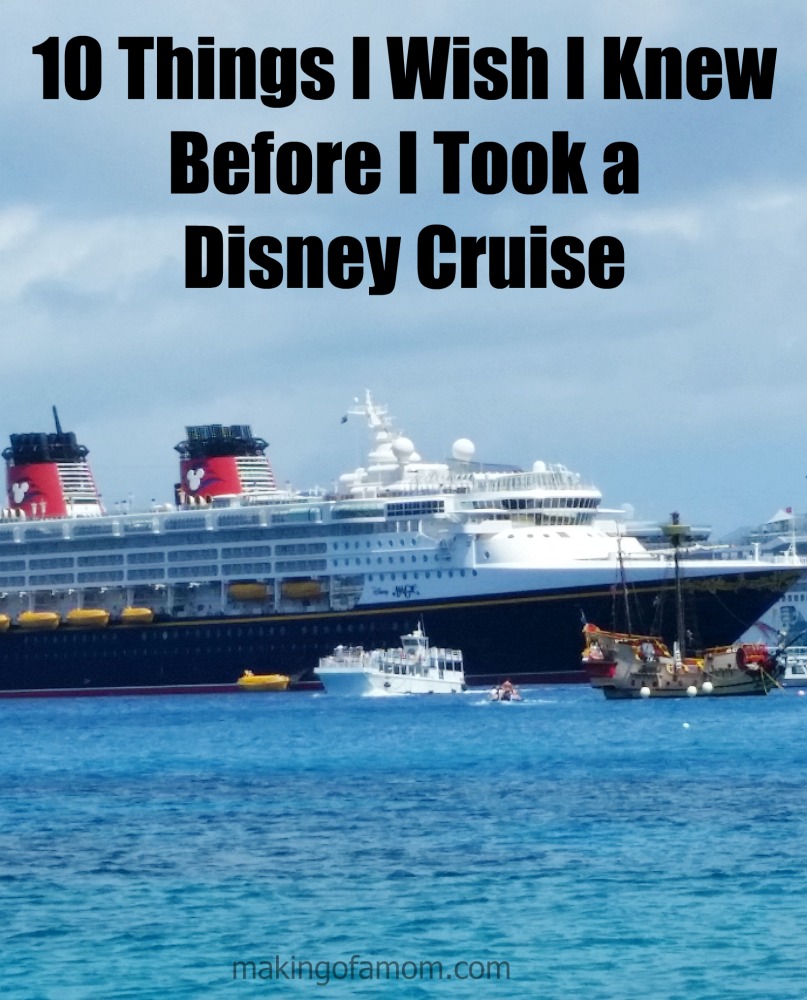 Are you ready to board one of the greatest cruise lines there is? A Disney Cruise is an experience like no other, and one that you will never forget. If you have yet to take a Disney Cruise and want to be sure you are leaving no stone unturned, take a look below at 10 things I wish I knew before I took a Disney Cruise. By knowing these things now, you can save yourself time and money later. Here is what you should know!
1. Check in online prior to your trip.
You can create a cruise account on the Disney Cruise website where you can check in for the kid's clubs and your stay in general prior to boarding. Doing this online beforehand can save you time when boarding, so you can spend less time filling out paperwork and more time enjoying the ship.
2. Carry your swimsuit on.
It may be a few hours before your luggage arrives to your cabin, so carry or wear your swimsuit onboard so that as soon as you arrive on the ship, you can start enjoying the cool pools and have some fun. This way, you aren't waiting for your luggage to arrive and start the party.
3. Everyone brings their own cups.
The cups for the free soda stations are quite small. Bring your own cup or water bottle that you can fill instead. This way you can take more when you fill up and not have to make so many trips to the stations. We brought our mugs from our Walt Disney World trip. 
4. Bring autograph books.
On a Disney cruise you will be able to visit with all your favorite characters. We saw princesses, Marvel characters, Mickey and friends, even Captain Hook and Smee!  With scheduled times, character meals and even surprise visits, be sure to always have your autograph book ready so you can get everyone's autographs. Use code Mom15 for 15% off your book now!
Personalized Autograph Books

5. An air freshener isn't a bad idea.
The bathroom in the cabin doesn't get much circulation. If you want you can bring your own plug in air freshener or spray to keep the space smelling fresh. Remember that candles aren't allowed on the ship, so you must use a non-flame option.

6. There is no need to book extra excursions.
Honestly, there are so many options to choose from when you arrive on the islands, and many of these options are included in the price of the cruise. Castaway Key has so much to do that is included, there is no need to book and pay for additional excursions. You will find that you can stay plenty busy without spending an extra dime.

7. Kids may skip dinner, and that is ok.
Don't feel like the entire family has to attend the formal dining hour each night. In fact, it is quite common for the kids to be having so much fun in the clubs they don't want to leave. No worries, as the cast members provide food during the play hours so kids will never go hungry. Plus, there are always other dining options should kids decide to eat later. Just let them have fun!

8. The ship is a museum.
I had no idea the ship would be a museum of Disney themed artwork, old animation cells, Disney artifacts, and so much more. Take the time to explore the ship and see all of these pieces carefully displayed. They are truly works of art and part of Disney history.

9. Participate in Fish Extender.
One of the most fun, and not-so-well-known things you can participate in on a Disney Cruise is the fish extender. It is an unofficial activity that is set up through Facebook groups by passengers. The fish extender is a hanging pocket organizer where people in your fish extender group will leave you little gifts. When we went on our Disney cruise I decided to make a personalized one for my family with all our favorite characters. You can make one or buy one. Etsy is a great place to search for Fish Extenders.
10. There are many motion sickness options.
Don't feel like popping a pill is your only motion sickness option. You will find there are wrist bands, ear stickers, and even chewable supplements that can all help with motion sickness. Explore your options prior to going and see which option is best for you.
I may not have known these things prior to my own Disney Cruise, but now you do! Keep these 10 things I wish I knew before I took a Disney Cruise in mind, so you can enjoy this truly magical trip!