Have you ever given your child a present but found that the packaging was more fun than the toy – at least for a little bit? When my children were small and we would buy the play kitchen or the play tool bench, usually my kids would end up in the boxes of those toys instead of playing with the actual toy. Once the box had been thoroughly explored and destroyed they would then move on to playing with the toy the box had carried.
DesignKids Habitat embraces this love of boxes and their potential by creating blue prints for amazing things! Shannon, the owner of DesignKids Habitat, was once an architect, but she now puts her architectural skills to use by creating blueprints for boxes. Like in the picture above she has created a blueprint for creating an amazing rocket ship from a box. She also has several other designs such as the Dr. Who TARDIS, a castle and a flower box. The patterns range in price from $20-$25.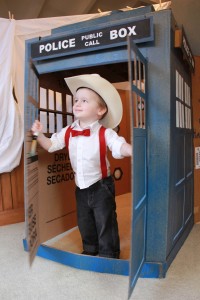 I am very impressed with the creativity of Shannon for designing these amazing masterpieces. I also love that is this a great way to recycle large boxes! So much fun can come from these boxes instead of just throwing them away.
I received the rocket ship blueprints to create for my kids (well my husband is going to be the one to create it, he is an engineer afterall!) When I was asking Shannon all about the process she said that it will take a washer or dryer sized box (though if you find a different sized box you can email Shannon and she will email you an altered pattern to work with your box! How is that for customer service!) and about 8 hours of time.
Check out these blueprints! They are serious stuff. You know the amazing thing? Even though I don't feel like this is something I would be able to make, I thought it would be a little complicated for me, but it isn't!! I looked over the instructions, in which she also includes photos to help guide you, and it is completely do-able, even for me! Included with the instructions and blueprints is an item list so you know before hand what extra items you will need on hand to complete the project. In a simple 21 steps this rocket will be complete and you will be on your way to having a "blast"  hehe I couldn't resist! Check out the DesignKids Habitat Facebook page to connect with Shannon or to see what others have designed.
Now I have been having trouble finding a box, but I am determined to get one because I want to get this rocket ship built and being played with in my basement. I will keep searching and bring you my post when I actually build mine, but in the mean time DesignKids Habitat is giving one lucky reader a pattern of choice!! Enter through the rafflecopter below. This giveaway will run from July 15 – July 26. This giveaway is open to US residents ages 18+. Winner will be verified and emailed and have 48 hours to respond before a new winner will be chosen, no exceptions. Making of a Mom is not responsible for prize shipment. Good luck!