I participated in an Influencer Program on behalf of Mom Central Consulting for HoneyBaked Ham. I received a gift card to facilitate my shopping trip and to thank me for participating.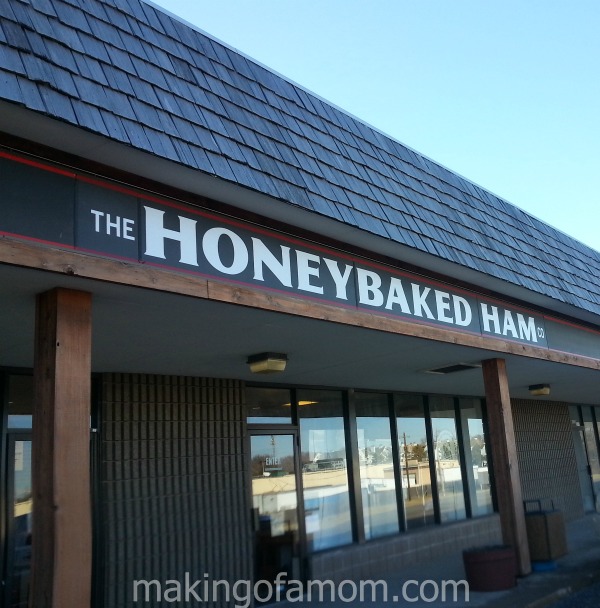 Many, many years ago when my age was in the single digits (WOW!) my parents splurged one Christmas for a HoneyBaked ham. I remember how big of a deal it was because everyone kept talking about it. I remember my first taste of that special ham and couldn't believe how delicious it was. I was happy for my parents plunge and wanted to make sure there was plenty of ham for me so I took more than  what I could realistically eat. I still remember that lovely Christmas dinner with family and delicious ham.
HoneyBaked Ham has been a family run company since 1957, and boy, do they know how to do it. With how busy the holiday season gets, it is so nice to have a delicious and easy option to turn to.
I was given a gift card to my local HoneyBaked ham store so that I could try out the Ham and their delicious sides. I decided to go with a 7 pound ham, which feeds approximately 6-8 people. I also was able to purchase three of their sides. I went with the Sweet Potato Souffle, Macaroni and Cheese and Broccoli Rice Casserole.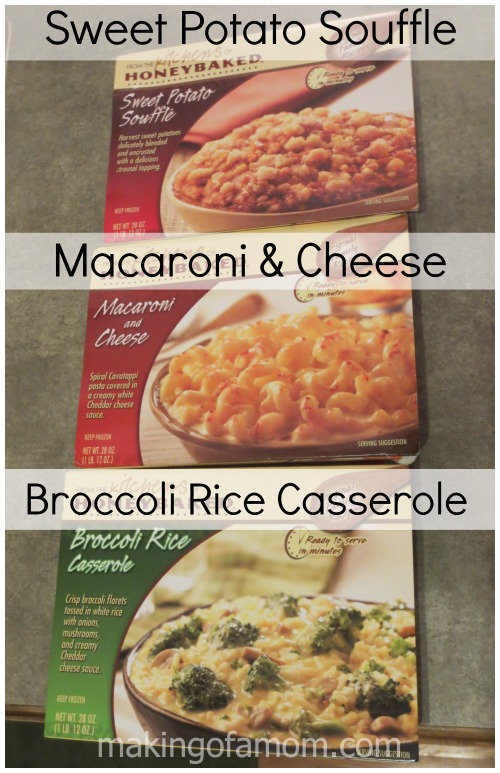 Since the sides were frozen I was worried they might taste like other food from the frozen isle – you know the stuff you prefer not to eat – but I was so wrong. Each of these sides was SO GOOD! I don't even like normal Macaroni and Cheese, but I could not get enough of the HoneyBaked mac and cheese. It was so delicious. I really liked the taste of the Sweet Potato Souffle, but didn't enjoy the texture. It was a little too pureed for me.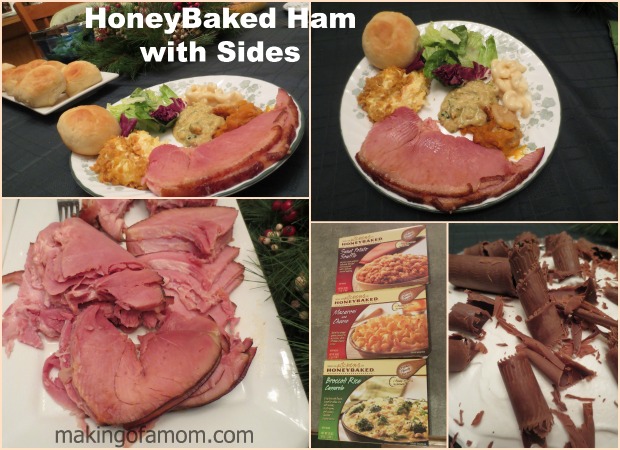 We invited some friends over to enjoy a lovely early Christmas meal with us. I would normally be crazy on a big baking day, but was I busily scurrying around the kitchen? NOPE! About 2 hours before our friends arrived I put the ham in the oven for a while. Later I came back and put each of the sides in the microwave. They each needed 10 minutes, and then a short resting period before finishing them off. I decided to do 10 minutes in the microwave and finish them off in the oven to crisp them up.  I had also made a potato casserole that I threw in the oven with the sides so multiple things could be baking at once. At the end of that I had a lovely meal that hadn't taken much effort to prepare. It was so nice to be able to not worry about making so many different dishes by scratch. It was more nice that all the sides and the ham were so good that everyone wanted to come back for seconds and thirds. I was impressed with how far the sides went. We had four adults and 6 children between us and the sides were plenty. We even still have left overs in the fridge. The ham of course was so good, just like I remember as a child. The meat was so tender and I LOVED the sweet crunch.
HoneyBaked Ham is giving one lucky reader a $25 gift card!! This giveaway will run from December 19 through December 23. This giveaway is open to residents of the continental US ages 18+. Making of a Mom is not responsible for prize shipment. Winner will have 24 hours to claim prize; after that a new winner will be chosen. Good luck!