Disclaimer: As part of a Kansas City Promotion, I have teamed up with Chuy's to provide a review of their food and a giveaway.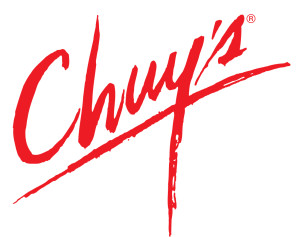 Chuy's originally started in 1982 in Austin, Texas. Through their eclectic restaurants and delicious Tex-Mex food their popularity has grown and Chuy's recently opened their doors to a new Kansas City location on the Plaza. Good food is their #1 priority, and you can taste it with their hand rolled tortillas and freshly made salsa. Chuy's offers several signature dishes such as the "Chuychanga", their Chile Rellenos as well as signature sauces ranging in spiciness from mild to hot! (yes they added an exclamation point!). You can follow along with all the Chuy's Kansas City fun on their Facebook page.
My family had the opportunity to visit Chuy's last weekend. It was really fun visiting the restaurant on the Plaza in Kansas City. Just as expected there was an Elivs shrine and an eclectically decorated building. I loved how colorful it was inside.
There were several parts of the experience that I LOVED. First, this might seem like a small thing, but I LOVED that in the kids cups were straws that were sized appropriately. I don't know how much times we have had to literally cut the straw in our kids cups because they were too long. Thank you for providing smaller straws!
Second, we LOVED the dips! We inhaled the delicious salsa and were in love with the Jalepeño dip! It was solo good (and spicy).
Third, I loved watching my tortillas being made in front of us. It seems rear to get to eat such fresh food. Rest assured the food at Chuy's is fresh and delicious.
Fourth, my kids loved the food. My daughter practically licked her plate clean. It is so nice to find a restaurant where the kids enjoy the meal as much as the parents. My kids are really picky and so this is very rare for us.
I decided I really wanted to try a signature dish so I got the "Chuychanga". Our server, Edward – who was amazing, recommended putting Chuy's "Boom Boom sauce" on it, so I took his recommendation. Word of caution – Chuy's is TexMex so it is spicy! My mouth is a little bit of a wimp, so I was on fire the whole time. Good thing they kept the water coming! My husband got the fajitas with steak and chicken and they were sooo good. I convinced him to share with me! 🙂
The service was fantastic. Since visiting the restaurant was for a Kansas City Blogger promotion I met the manager Zach. He was incredible friendly and sincerely wanted all of his guests to have a fabulous experience. I saw him continuously helping out the entire night.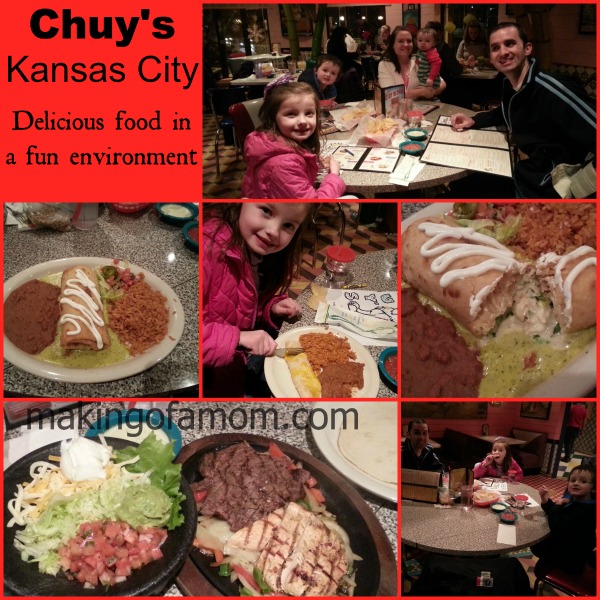 My family gives Chuy's two thumbs up. We cannot wait to visit again soon. I hear the Dulce de Leche is delicious and we didn't get a chance to try it this time. If you head to Chuy's right now you will also get to enjoy the beautiful lights on the Plaza for the holiday season.
Chuy's is wanting to help spread the word of their new Kansas City location by offering 5 readers the chance to win a "Dinner for Two" gift card valued at $30 which includes an appetizer, two entrees, a dessert and non-alcoholic drinks for two! Several local bloggers have teamed up to bring you this fantastic giveaway.
This giveaway will run from December 10 through December 16. Please enter if you live around the Kansas City area and are able to visit, or if you have family or friends you could gift the prize to. Good luck!
 Participating bloggers are not responsible for prize fulfillment. Winner(s) will be verified, emailed and have 48 hours to reply or a new winner will be chosen.