Disclaimer: I was given a free product for review purposes. All experiences and opinions are my own. Yours may differ.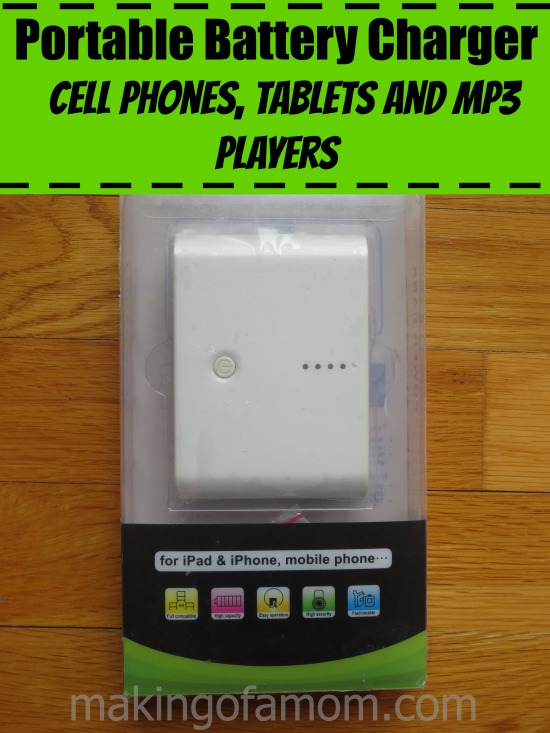 As a blogger I am on my phone A LOT! I am checking emails, taking pictures, keeping my social media up to date and making calls. My phone's dies quite often! It is always a huge headache and very inconvenient for me to have my phone die in the middle of something important! When I went to Los Angeles for the Disney Planes Premiere my phone was dying extra fast because I had to take a ton of pictures and constantly be tweeting, facebooking and instagramming. Luckily my friend Heidi had a portable cell phone charger she let me borrow! After that trip I came home and searched the internet! I needed one for myself!
Tmart.com contacted me about doing a review for them. After searching the site I found this portable charger, "external battery" as they call it and decided on that. I thought it would be great to review since I had experience with a different brand.
This 1200 mA external battery  is neat because it comes with adapters so that it works with MOST electronics. There are 8 different adapters to make it compatible with cell phones, iPhones, iPads, other tablets and mp3 players. The way you charge the charger is by plugging it into the wall. It didn't come with a wall plug, but since it connects with USB we had plenty of cables around. Once it is fully charged (it takes less than 3 hours) it is easy to carry around. It comes with a cable to plug into the charger and then you attach which ever adapter you need for the device you need charged. It is very light and small so isn't a burden to carry around.
If my Samsung Galaxy SIII cell phone is almost completely dead it will charge it to about 3/4 full of battery before the charger is out of power. I wish it would fully charge it, but most of the way is better than nothing. Plus this is a GREAT budget friendly option as other portable chargers are quite expensive. This charger costs $25.49 at Tmart.com.
As I searched around Tmart.com I found that they have a large variety of products and their prices are fantastic. A lot of the items are stored in international wearhouses but their shipping is very speedy, and FREE!
The holidays are coming and electronics are a hot gift item! Perhaps Tmart.com has the item you want to give for a price you will love!
GREAT NEWS! Tmart.com is giving one of these chargers to one lucky reader!
This giveaway is open to US residents ages 18+. Making of a Mom is not responsible for prize shipment. This giveaway will Sept. 28 through Oct. 7. Winner will be verified and email and have 48 hours to respond. Enter through the rafflecopter below. Good luck!