When I think of July I think of grilling! I am not one to love hot summers, but I do love that we get to grill several times a week! Grilling is so easy, super yummy and most of the time it means my husband is going to be making dinner (SCORE!) When Rakuten.com Shopping emailed asking if I would like to try the Jaccard 4.75 qt Speedy Plus Instant Marinater retailed at $29.95 I was excited to say yes! My ideas for marinating usually come about 20 minutes before we are going to grill so needless to say my meat doesn't really get marinated in that amount of time.
The speedy marinater boasts that it can marinate in as quick as 5 minutes with is vacuum system. It is also tricky because you can transport your raw marinated meat to the grill without spillage, and then use the top tray to transport the cooked meat. No cross contamination and no need to dirty up multiple dishes!
To quickly marinate meat you simply place your meat fully covered in your desired marinade in the container, close the lid and use the vacuum pump until full vacuum pressure is achieved. There is a gasket on the side of the pump that lets you know when you are at the appropriate amount of vacuum pressure – see that the gasket on the right has dimple? It's at the right amount of pressure!
We set a time and let the meat marinate for 7 minutes. 1. we were starving and 2. we wanted to see how good of a job it would do in a short period of time.  Once the timer went off we headed to the grill!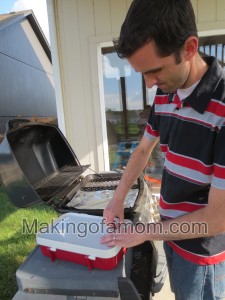 My husband released the pressure in the container and then got to grilling. We got a marinade that would taste good with chicken and steak so we could test out both at once.
After the meat was done cooking, we put it on the tray and carried it back inside. DINNER TIME! The meat was pretty good. I think it maybe had a little more flavor to it than had we just let it sit in a bag for 7 minutes. The instructions did mention that for best results to use the Jaccard meat tenderizer. I think that would have made a HUGE difference, especially when you are only marinating for a short period of time.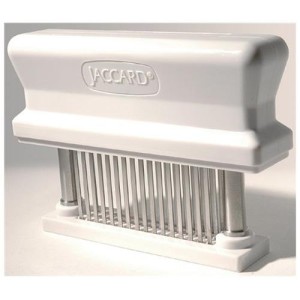 Rakuten.com Shopping has got you covered for all your BBQ needs! Check out this amazing outdoor kitchen retailed at $129.99. It is perfect for camping, or just having in your backyard for your big BBQ parties you are hosting this summer. I love that is has a lot of storage space and several different levels for lots of preparation space. This outdoor kitchen also folds FLAT! So it has 2 second set up! This is so cool!
Or what about this? This amazing Bayou Classic Fold & Go grill is perfect for your summer camp outs. It is a charcoal grill and easy to take on the go. This grill retails for $34.57. Besides these great product, they have so many more for your BBQ needs!
Not only that, Rakuten.com Shopping has a rewards program called Super Points that rewards you every time you buy something on the site. You can save up your points to get items for free or pay for part of your order with your points.  You earn 1 point for every dollar that you spend. You can learning everything you need to know about Super Points here.
Rakuten.com Shopping is giving one of my readers a chance to win a $50 shopping spree on their site! This giveaway is open to US resident ages 18+. Giveaway will run from July 5 through July 12. Winner will be verified and emailed. Winner will have 48 hours to respond before a new winner will be chosen, NO EXCEPTIONS. Enter to win through the Rafflecopter below.  Good Luck!