When my family was in Florida attending the Family Forward blog conference we were treated to lunch by Barilla. What they did was really fun. Every family received a tray with the ingredients to make a pasta salad. One of the Barilla chefs then walked us through creating lunch together as a family. It was so much fun to create this delicious recipe together and then enjoy a nice pasta lunch together. I wanted to share the recipe with you and then offer a giveaway!! WOOT!

Barilla Penne Summer Salad
Ingredients:
1 box Barilla Penne
4 tbs Olive Oil
2 roasted red bell peppers diced
1/2 Sun Dried Tomatoes (in oil) chopped
3 cups baby Arugula
2 balls Mozzarella (fresh) diced
salt to taste
black pepper to taste
1/2 Lemon (juiced)
4 Basil leaves
Directions:
Bring large pot of water to boil.
Season water with sate and cook pasta 1 minute under required cooking time as indicated on box.
Drain and toss with 1 tbsp Olive Oil, place on sheet tray to cool.
Once cool place in a large bowl and add remaining ingredients.
Toss to combine
*TIP* Cook some chicken and add some diced chicken to make it heartier.
We loved this pasta salad. It was really good and so refreshing. Barilla also handed out some lovely necklaces. On one side of the pendant it safe "Family" and on the other side of the pendant it said "Share the Table". Share the table means to have family means, enjoy time together, discuss your day and happening. Barilla is encouraging family to really be present at meals times because it is so important for children.
Giveaway Time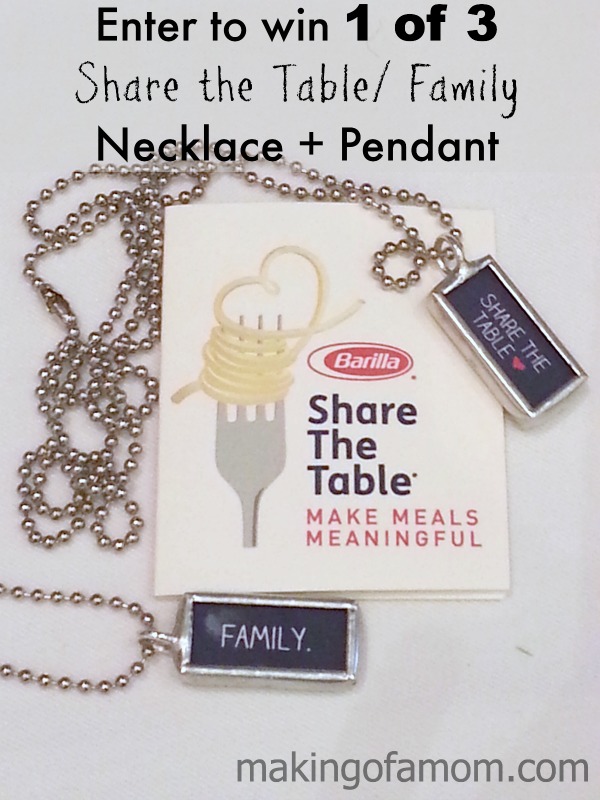 This giveaway will run from September 12 through September 19. It is open to US residents are 18+. Winner will be verified, emailed and have 48 hours to respond. Good luck!