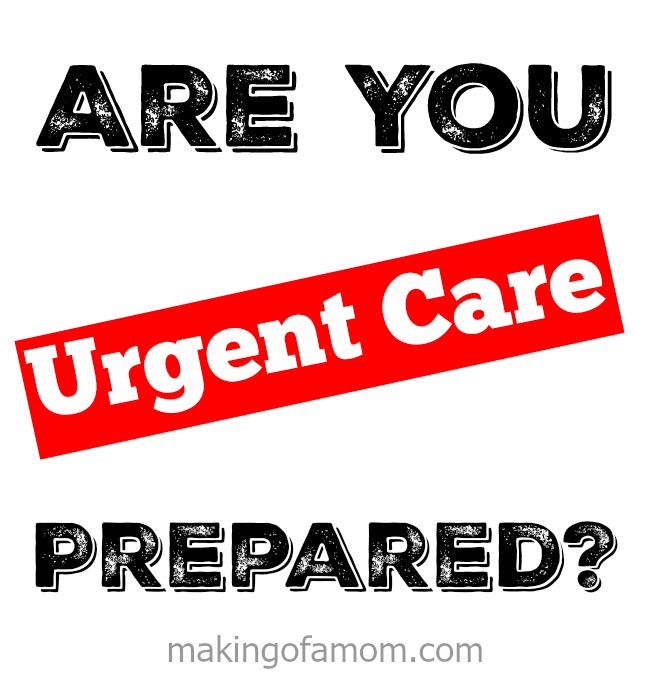 I grew up in a family that didn't go to the doctor often. We didn't get sick often so we just didn't go to the doctor. As I grew, hit puberty and had acne explode on my face, all of the sudden I was interested in going to a doctor regularly to get help for that problem. Being a child I didn't ever know all the circumstances around choosing a doctor or anything of the details but my "regular doctor" was the urgent care. Perhaps it was just that we didn't need an appointment, we could get in relatively quick and they took our insurance, I'm not sure but that was my normal. I always had really positive experiences with my urgent care doctors.
Now as an adult I find myself in a similar situation. My family and I don't get sick often so my husband and I don't have primary care doctors. My children do have pediatricians, that also have an urgent care in their office for "outside hours" help. With the kids back in school it isn't always possible to fit an appointment in at the doctor so urgent care is the easiest solution. When my husband or I need to visit a doctor we simply head to an urgent care in our town. It's usually quick, they get right to the point of the visit, we get our help and we're on our way.
There are a few things you can do to be Urgent Care Prepared for future visits.
Have key healthcare information on hand. You might need a vaccination card for whoever is visiting the doctor. You'll need your insurance card and to know your family's health history. 

Identify your area healthcare options to handle sudden illnesses or injuries near your school, home and work. 

Make sure to identify healthcare resources that offer hours convenient for your family's schedules.

Confirm your insurance is accepted at your area healthcare providers ahead of time.

Review the range of services provided so you know where to go for any concern.
I find that I prefer just having an Urgent Care available to me for my doctor needs because of their extended and weekend hours. They fit my schedule the best. It's also a lot cheaper than visiting the emergency room. With the back to school time crunch if you need physicals, vaccinations or a flexible doctor option, urgent care fills that need very nicely. We rarely have an emergency, but if we have a sickness that feels urgent this is where urgent care is better.
Find an urgent care near you and enjoy the benefits of going to the doctor on your schedule.
Sweepstakes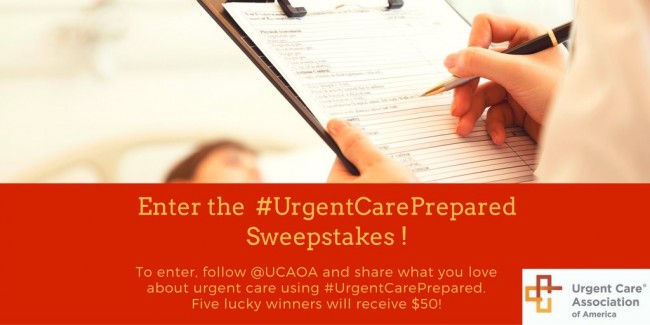 The Urgent Care Association of America Twitter sweepstakes ("Sweepstakes") is offered only in the United States and its territories to legal residents of The United States at least 18 years of age at date of entry. The Urgent Care Association of America (UCAOA) is the official Sweepstakes sponsor ("Sponsor"). Employees and directors of the companies, and owners and independent contractors of the UCAOA, and their subsidiaries, affiliates, advertising, promotion, and fulfillment agencies, and immediate families (spouse, mother, father, sister, brother, daughter or son, regardless of where they live) or members of their same households (whether related or not) of such employees and directors are not eligible.
To enter, post a tweet with the designated hashtag #UrgentCarePrepared and follow UCAOA on Twitter at @UCAOA. Five winners will be drawn from all unique, original tweets with the designated hashtag posted from August 15, 2016, at 10:00 a.m. CT to August 26, 2016, at 9 p.m. CT. RTs are not counted as a sweepstakes entry.
Entrants acknowledge that that Sponsor assumes no liability for an entrant's entry or participation. All entries will be considered for a chance win. Entries will not be acknowledged. The person to whom the selected Twitter handle is registered will be awarded the prize. By entering, you agree to these official rules ("Official Rules") and the decisions of Administrators which are final and binding in all respects. There will be (1) Visa gift card (MSRP: $50) awarded randomly to five (5) winners.
Winners will be notified via Twitter on August 29, 2016. Winners must respond via a direct message by Friday, September 2, at 10:59 a.m. CT with a valid shipping address and/or email address for correspondence or else the prize is forfeited. If a prize is forfeited, no alternative winners will be selected.