Disclaimer: I received the follow product free for review purposes. All experiences and opinions are my own. Yours may differ.
You've heard the saying opposites attract. Well it holds true for people, what about food? Applebee's is putting this theory to the test with the NEW Honey Pepper menu items!
My husband and I are opposites in some aspects. He is the oldest in his family, I am the baby. He has a scientific mind, mine is more creative. Our differences bind us together and help us compliment each other. We are a great team! His strengths compliment my weaknesses and vice versa. It's a beautiful thing.
We decided to head out on a date so I could try a new Honey Pepper item and see if these seemingly opposites also worked together in such a manner.  Check out these delicious items on the menu.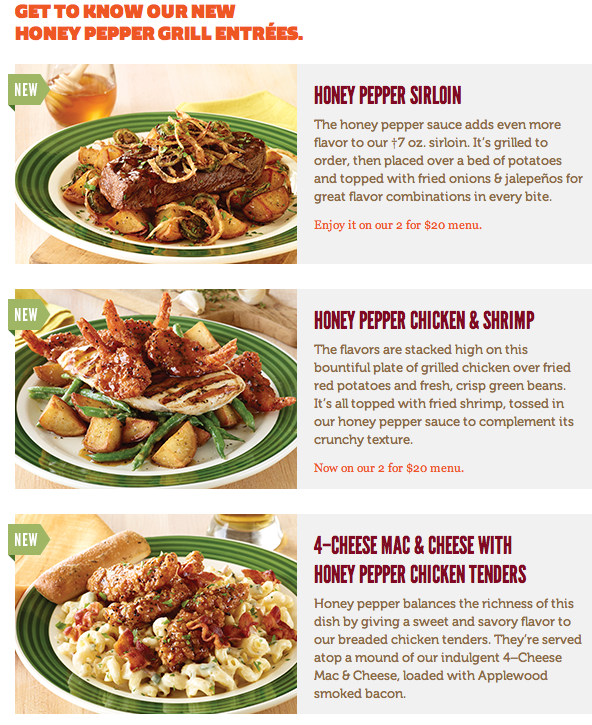 "Honey adds sweet notes in a pleasant, subtle way," said Applebee's Executive Chef Michael Slavin. "The soothing appeal of warm honey with the earthy bite of cracked black pepper creates the perfect blend of flavors. Our Honey Pepper Grill menu delivers great texture and smooth craveable sauce that will have you wanting more."
Honestly the only item I saw was the Honey Pepper Chicken & Shrimp so that's the one a went with. Breaded shrimp isn't my favorite thing but it's fun to try new things so I threw caution to the wind and went with it.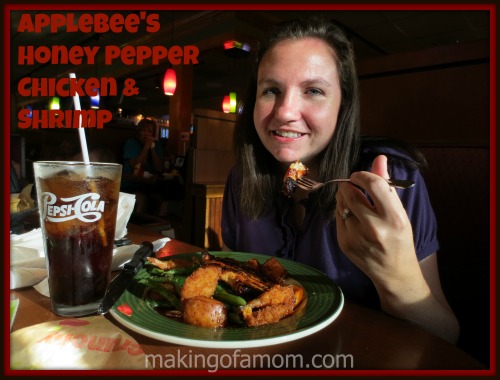 First of all when they say "Honey Pepper" they mean it! I think I was expecting more flavors to the combination, but nope, just honey and pepper. To me there was a little too much pepper. My mouth was hot for a while. But it was still very fun to try it. I LOVED the chicken. It was so yummy and the sweet of the honey went with the chicken so very well!  As I mentioned breaded shrimp isn't my favorite so I shared those with my hubby. I loved the green beans. They were under the chicken so they missed the honey pepper sauce, but had some other seasoning on them and were delish!! The potatoes were also tasty.
I love that Applebee's seems to often change their menu and add some taste treats. It is so fun to experience new foods and new flavors quite often at Applebee's! The new Honey Pepper menu is only available until November 12 so hurry to try it out!
I would love for you to also get to try the new Honey Pepper menu so I have a great giveaway! Enter to win a $50 Applebee's gift card! This giveaway is open to US residents ages 18+. Winner will be verified and emailed. Winner will have 48 hours to respond with information before a new winner will be chosen. This giveaway will run from Sept. 9 through Sept. 21. Please enter through the rafflecopter below. Good luck!