2006 was a great year for travel for my family! We went on several trips that year. At the time my husband had just graduated from college and we were living at my parents house in California. They were on a busy church assignment so they only came home on the weekends, so we basically had the house to ourselves. Since we lived with them we were able to save a lot of money, which is why we were able to travel so much that year.
We decided in October of 2006 to take a trip with my parents to the Oregon coast. We would pick up my Grandmother in Lake Oswego and head to Cannon Beach, Oregon as we had done so many times before. This used to be a yearly tradition for my family. When we would go to Oregon to visit my Grandmother, we would also take a few days to spend at Cannon Beach. We always stayed in the Tolavana Inn resort close to Haystack Rock and the infamous Mo's Chowder.
This is the first time my husband and I had taken this trip (although I think he had been to the area once with his family). We had the tradition of stopping along the way to visit the biggest tree in Oregon, a Sitka Spruce. This drive from Lake Oswego to Cannon beach is gorgeous! It is easy to miss the stop for this tree, so pay close attention to the signs.
Since we were only going to be in Cannon Beach for a
few days we had to get all the traditions in! We immediately headed south to Tillamook Cheese factory. It is so fun to take the self guided tour, watch the people making cheese, get a few free samples and then eat a big ice cream cone!
Then we headed to the rock, Haystack Rock that is! We always walk out to haystack rock. Sometimes we would go at low tide so we could see all the tide pools and creatures inside. Oh and of course we would bring our "bird bread" to feed the seagulls as we go!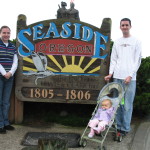 Next stop? Seaside Oregon. Just about 20 minutes up the road. In Seaside we always stop by the candy store to get some salt water taffy and visit the Seaside Aquarium. This cute little aquarium has seal to feed ($1/carton of fish) and about a dozen tanks full of sealife. There is a touch tank also, but I don't participate in those activities!
This particular trip was special because we ate at almost every restaurant on the main drive in Cannon Beach. We decided to splurge and try most of them, knowing it would be years before we would be back to Cannon Beach. Also, no trip to Cannon Beach is complete without stopping at the Cannon Beach Bakery. I, unfortunately, don't have a picture from this trip but I always get their amazing chocolate eclairs and Haystack Bread! We LOVE the Cannon Beach Bakery and my family has supported it through several decades and a move to the beginning of the street from previously being located at the end of the street.
When all was said and done it was time to head back to Portland and dropped my Grandmother off at her house. We  walked around the Portland LDS temple and then headed home.
I have such fond memories of Cannon Beach Oregon and loved sharing it with my family. We recently went back in June of 2012, so I will share that trip in a future Travel Tuesday.
Have you ever been to Cannon Beach Oregon? What is your favorite part?