Disclosure: The VTech product, gift card, information, and additional gift pack have been provided by VTech. All experiences and opinions are my own.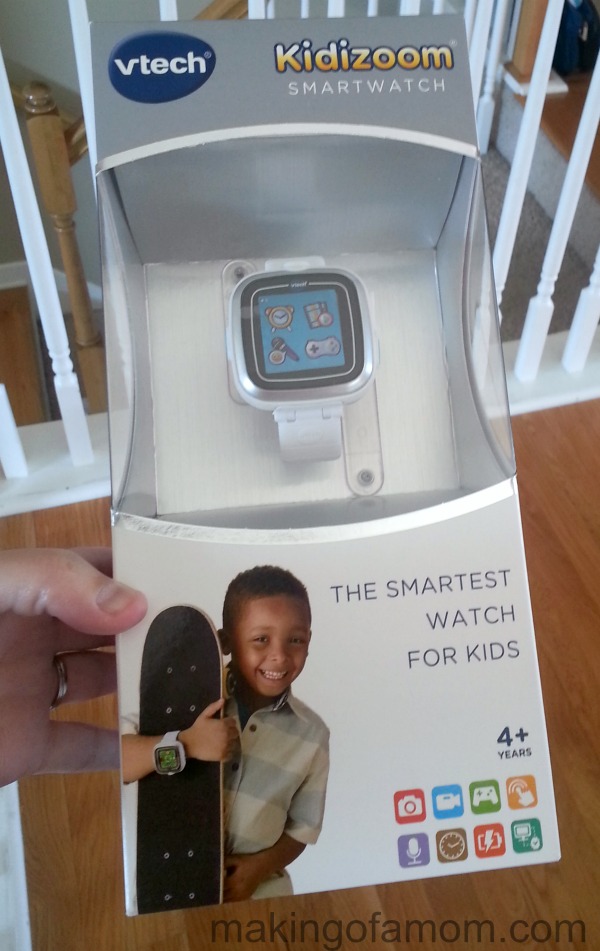 I love getting to try out new toys for my kids. I am of the opinion that electronics can be used to really help teach our kids information, teach them new skills and capture their interest in learning in new ways. I like the Kidizoom Smartwatch by VTECH for many reasons.
Take a look at this list of features:
Takes Pictures
Has fun photo effects
Take Video
Has a voice recorder
Has games
Has a digital and analog clock
Has a timer
Has an alarm
Touch screen that is super easy to use
Rechargable battery
Connects to commuter for more game downloads and to get pictures off
The VTECH Kidizoom Smartwatch recently came on the market for purchase. It is available in blue, white, pink and green for $59.99 on the VTECH site.
When you first get your Kidizoom Smartwatch plug it in and allow the battery to charge completely before use. Once it is fully charged, set up is super easy. Turn on the watch by flipping the switch on the back. The watch will ask you to set the date and time. You can even choose which cute clock face you want from a variety of pictures. Once you finish setting up the date and time you are now able to play!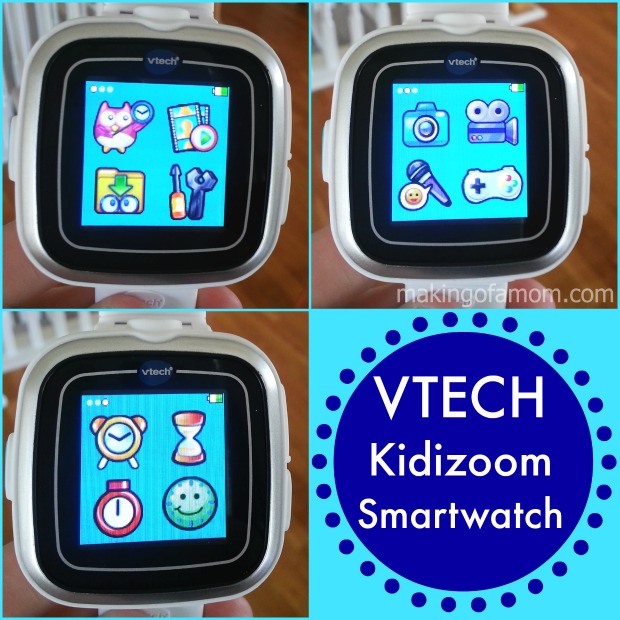 Look at this picture above. There are three screens filled with fun for your kids. We'll go from left to right, top to bottom.
The owl icon is called "Time Master". Here your kids can manipulate a clock and the owl will tell them what time it is two different ways.
The film negatives icon is where you can view your movies and pictures you have taken with the watch.
The folder is your download manager and where you learn how to download.
The tools icon is where you adjust your settings: volume, brightness, time, date, menu layout, etc.
The camera icon is where you go to take pictures. You can also hit the camera button on the right side of the watch as well.
The video camera icon is where you take videos.
The microphone icon is where kids would make audio recordings. This is probably my children's favorite thing on the watch.
The game controller icon is where the three games that are preinstalled on the watch can be found. The games are Super Detective, Rotating Puzzle (which is fun because it uses some of the picture you take with the watch) and Finger Dance.
The clock icon is where you can set an alarm.
The hourglass is a timer.
The stopwatch is… a stopwatch.
The happy clock lets you choose an analog or digital format for your watch face.
The VTECH Kidizoom Smartwatch is for children ages 4+. My 5 and 8-year-old kids love the watch. I first let my 8-year-old daughter play with it, which attracted her little brother over. He was excited to watch her play and figured out how to use the watch from watching her. He was then ready for a turn. They like to make movies of each other and take pictures too.
This is a great toy for on-the-go fun. Since it is a watch you just strap it on one of your kids and you are ready to go. It doesn't take up much space. It is a great independent play toy. The Kidizoom Smartwatch will be joining us on all of our trips and outings from now on. Since it is a sturdy and quality toy I know it is going to last a long time.
Giveaway Time!
VTECH is giving one lucky reader their own Kidizoom Smartwatch. This giveaway is open to US residents ages 18+. The giveaway will run from July 29 through August 8. Winner will be verified and have 48 hours to respond to winning email or a new winner will be chosen. Good luck!
a Rafflecopter giveaway