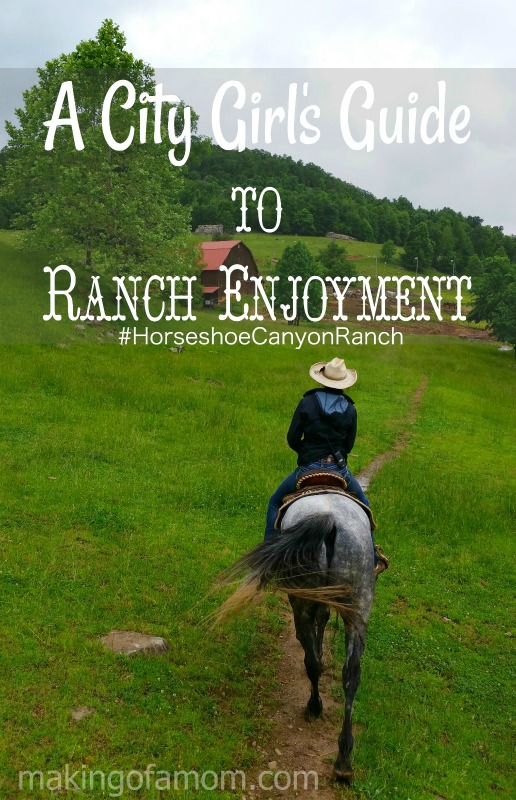 Don't get me wrong, I LOVED my time at
Horseshoe Canyon Ranch
, so much that I still get a little teary thinking about it. Horseshoe Canyon Ranch taught me some amazing life lessons about my self and definitely holds a special place in my heart. BUT I wish I had been a little more prepared for days at the ranch. In order to help any of you city folk avoid the culture shock of the wilderness and swiftly move into relaxed ranch living, here's my
City Girl's Guide to Ranch Enjoyment
.
Bring a backpack or some other type of pack. You will want to carry water, bug spray, sunscreen and other necessities with you. When you are horseback riding you can request a pack for your horse, but for the other activities you are going to need a drink so bring a pack. On the Eastside adventure course you can leave it by the "screamer" so you can have it when you are done with the Via Ferrata and before you get all high adventure with the other activities.
Bring LOTS of bug spray. While the bats really kept the mosquitos away, my fear of ticks had me continuously reapplying the bug spray. It helped my peace of mind to have it on because I am terrified of ticks. Most people think they aren't a big deal, so good for you if that is your mind-set. For the rest of us, just spray often and try to relax.
Sunscreen is a must. With long rides on your favorite horse, days of filled with adventure with rock climbing or zip lining plus cooling off in the new pool, keep your skin covered.
Boots will be your favorite shoe wear for the most part. When you are walking around the ranch there is goat poop everywhere! When you are riding horses the boots are help. I found that I was able to walk without caring what I was stepping in when I had my boots on. I just got a cheap pair from Target, so no harm when I stepped in mud or poop. It's definitely worth it to invest in a pair, even if it is a cheap, fake pair. Even my cheap boots were able to be branded at the end of the week!


Sneakers are a must if you plan on doing the adventure courses. When rock climbing, hiking or doing the ViaFerrata you will want some grip so bring your sneakers!

Bring an open mind and sense of adventure. I was more "at one with nature" than I had expected. At first it was very troublesome. Once I got over it and decided to enjoy my situation I had an amazing, life changing adventure! I decided that I was going to try new things. From throwing Tomahawk (I got two on the bullseye, brag moment! to completing the Via Ferrata, I did hard things and loved every second of it!) With over 50 fun things to do, look forward to the adventure awaiting you!


Leave your diet at home and bring a big appetite. You will be working hard and being very active. You get fed a ton on the ranch and the food is crazy good, but you will be working hard too. There is a lot of hiking, even just to your cabin up the side of the mountain, so ignore the calories and indulge in the delicious food.


Be prepared to unplug. I visited Horseshoe Canyon Ranch for "work". I was there to help promote the ranch and share my stories and opinions about it. You will be there on vacation. Service is sparse and Wifi is weak, so just unplug and enjoy the time away. Your time there will building amazing memories you will cherish for a lifetime.
Bring a sweater for those cool nights. We visited in May so even though it was warm during the day, the nights cooled off. I liked having a little sweater to put on. Better safe than sorry!


Bring some extra clothes for spills or accidents. One of the members of our group had an unfortunate incident getting on her horse one of the days. One of the ropes was covered in horse poop and when she got on the horse it got all over her. She was able to have a great attitude about it, but as soon as that horse ride was over she was able to shower and change her clothes because she had extra outfits. You never know what might happen, so pack some extra clothes. The ranch does have laundry facilities but you might not have time right away to get your clothes washed.
Bring an umbrella. This Spring has basically been monsoon season. It rained everyday we were at the ranch. Theoretically in the summer the rain will slow, but again, I'd rather be prepared than soaked.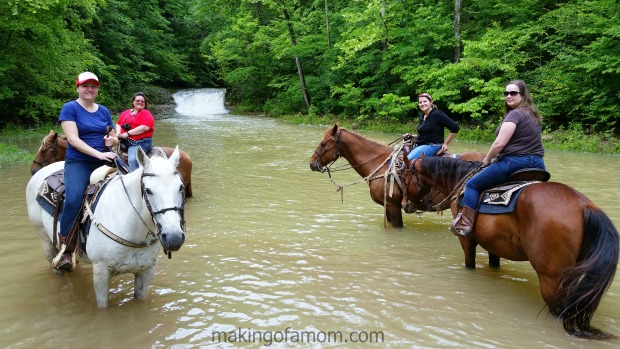 With a little preparation and a proper attitude going in, you should have an amazing vacation. It took me a day to get over my "country shock" but once I was over it I was relaxed and able to have an incredible time.