This is a sponsored conversation written by me on behalf of Depend®. The opinions and text are all mine.
It's no secret that I have been pregnant four times. While I love my kids, the road to where we are was not always easy. Most people only talk about the pleasant parts of pregnancy. While I wouldn't change any part of my pregnancy or my kids, I do want to be real with you. Here are 6 truths about pregnancy that no one tells you.
Your feet will swell, eventually
The best thing about your feet swelling is that it gives you a chance to sit down. While I hated having swollen feet, I did love having a reason to put my feet up and relax. So, sadly a truth about pregnancy is experiencing swelling, but the upside is, you get to sit down.
I was traveling a lot during the middle of my last pregnancy and that really contributed to my swelling. I had to take it easy on my trips. Make sure and tell your doctor about any swelling as it can go from an innocent side effect, to a serious issue quickly.
You will crave some weird stuff
If you have been pregnant, you know that your body has craved some weird stuff. This is often used as a joke – ice cream and pickles anyone? However, pregnancy cravings can stink. When you don't want to eat bad, but all you can think about are deep fried Twinkies. Pregnancy cravings are the kind that don't go away, until you fulfill them. I usually end up on a road trip to In N Out during my pregnancies, even if that In N Out is 10 hours away. The urge is real!
Sometimes you get incurable heartburn
One thing I hated about being pregnant was the heartburn I experienced. Heartburn is no fun, especially while pregnant. Heartburn during pregnancy is sort of indescribable. It's like you want to eat all the bad things, but then you pay for it later with heartburn. It's like a never-ending-cycle!
The urgency to pee, all the time
I think the more pregnancies you have, the more you need to pee. It's as if your bladder can't quite control what's happening and just wants to pee all the time. You could drink the smallest amount of water and need to pee like a race horse, just a few minutes later. A little cough or sneeze could make for a little accident on your pants. At the end of pregnancy, and after having the baby I like to wear Depend® in case a little accident happens. I know with Depend® my accidents don't become a public embarrassment. 
Also, once I'm home from the hospital, I like to trade out that special hospital mesh underwear for these. 
Depend® FIT-FLEX® Underwear
has the fastest absorbing material inside for dry, comfortable protection. I feel more human once I ditch the hospital underwear and use a more comfortable (and discreet) and absorbent pair of Depend®.
You want to sleep, but you're super uncomfortable
It's like you want to sleep your life away, but there is a tiny baby kicking you. Or you have to pee every five seconds, or you are hungry, thirsty or have a cramp in your leg. You know you need to get all the sleep in you can, but your body just isn't having it.
Weigh gain is so easy
It's not just the 8 pounds of baby and 8 pounds fluids you gaining. Just when you aren't feeling great, your stomach is swelling and add putting on additional pounds. Definitely try to keep up with your current exercise routine, and make some healthy choices when eating (cravings, I know!) and you can keep your weight gain under control. During my last pregnancy I threw it all out the window and paid for it on the scale. Now losing the "baby weight" has been tough.
The last month goes on forever
I know I'm not alone in this. No matter how quickly the rest of your pregnancy has gone, the last part goes on forever. You're so excited to meet this baby, however, the days have turned into slow snails climbing up a tree. Try to enjoy the last month of anticipation and preparation.
Yes, pregnancy is amazing and I enjoy it. However, it's okay to admit it's not always the most ideal journey. What truth can you share about pregnancy that no one told you?
If you haven't tried Depend® Silhouette® Active Fit® briefs and Depend® FIT-FLEX® underwear yet, now's your chance! Now through the end of the year or while supplies last, you can get $2 off at http://bit.ly/2xO7yfD.  Not only are these comfortable and a fit great, but they look and feel like real underwear while giving you the protection you need. Plus there are now two extra products in each pack! Try them for yourself and let me know what you think.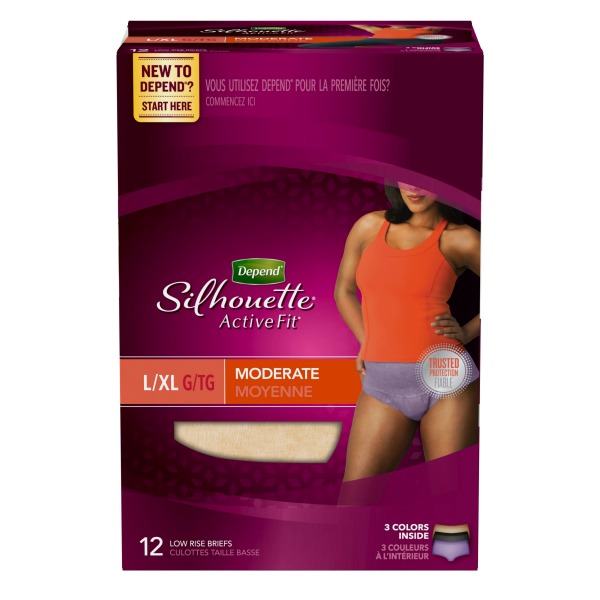 For more information about incontinence, Depend® products and for product coupons, please visit: http://bit.ly/2xO7yfD and follow Depend® on: Depend.com, Facebook.com/Depend, Youtube.com/ kc10dependchanneland Pinterest.com/dependbrand.
This is a sponsored conversation written by me on behalf of Depend®. The opinions and text are all mine.