My children aren't the biggest fans of healthy food. As a parent it's frustrating that I'm not able to get them to eat most veggies. They are completely lacking in the fruits and vegetables food group. The one thing they do love and I can count on them eating is yogurt, lots of yogurt. At least they are getting a lot of the dairy food group! I know milk is vital to children's growth and development and so it's great that my kids love milk.

AE Dairy offers some awesome products such as cottage cheese, dips, milk and yogurt. AE Dairy is location specific only selling to the Kansas and Iowa markets. For all the lucky people that are able to purchase these yummy products, there is also a great sweepstakes going on right now for you. To enter this $500 sweepstakes you must visit the AE Dairy Sweepstakes page.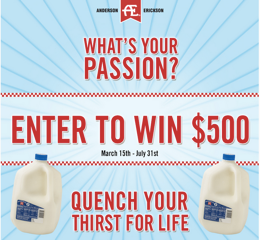 Do you love AE products? Do you love milk? How do you incorporate milk into your family's diet? Answer the question and enter for a chance to win the $500 sweepstakes! Sweepstakes run through July 21, so enter now!