This is a sponsored post, all opinions are my own.
About two years ago one of my friends approached me to ask if I would like to be her gym buddy. I had never been a member of a gym so I was nervous to say yes but I definitely wanted to do it. With her support we went to
Planet Fitness
and joined. When I walked in and saw the atmosphere and saw all the "No Gymtimidation" signs, I was at ease and I have loved being a member ever since.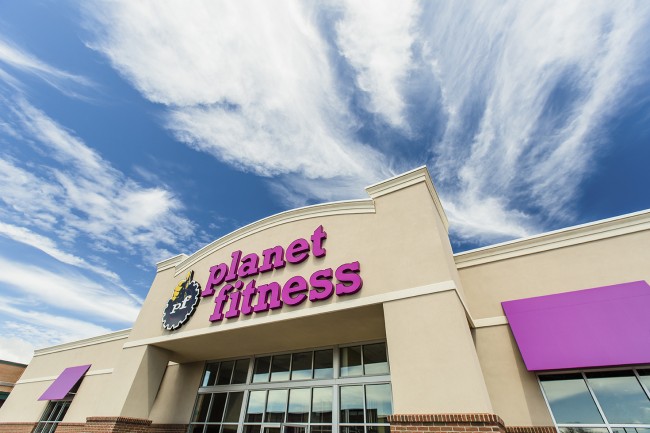 If you are considering joining a gym, here are
5 reasons I LOVE Planet Fitness
.
Most PF locations are open 24/7 so I can go whenever I want. While they don't provide childcare, they are always open so I can go when it works for me. I prefer to go in the evening, and it doesn't matter how late that might be, they are open for me!
Planet Fitness is known for the "Judgement Free Zone." No one is judging (or cares) what shape you are in. Most people are regular people like you and me just trying to get in better shape. The staff is friendly and so happy to help with any questions or instructions about how machines work. In my experience all the other people working out are friendly too. I find that when I go at the same time every day I recognize most people there, so it's fun to see my "gym buddies."
Planet Fitness is cheap (in the most positive sense of the word). Planet Fitness is only $10 a month! Plus, on April 4th for one day only you can join for $1 and pay $10 a month for no commitment! Awesome, right? I love that I can easily fit my gym membership in my monthly budget. There is also a PF Black Card® that is $19.99 and includes additional amenities such as the ability to bring a guest every day at no additional charge, access to all 1,000+ Planet Fitness locations, use of massage chairs and beds, and more. Either plan is an amazing deal! 

PF even made a link just for my followers so you can

enter your email

for a reminder.

There are tons of TV's playing a lot of different types of shows while you work out so the entertainment is there. I'm always occupied. Plus, there is free Wi-Fi in most locations so if you want to bring your own device to jam to your own tunes, you can! I have found that when I'm hitting a mental wall watching the shows they have available helps me keep my mind off the workout and distracts me enough to break through and reach my goals.
I love all the equipment available and that they have a ton of it. My favorite machine is the Arc Trainer and it must be a lot of people's favorite as well but since there are so many there is always at least one available for me. They also have two rows of treadmills. They have duplicates of most of the weight machines. I also really love the circuit training they have. There is one circuit that is a strength and cardio workout and it works on a red light/ green light system so you are at each station for a short time. The other circuit works your abs and has several machines to work the different muscles in your core. For my own gym schedule I have one day be a circuit day.
If you are wanting to try something new to help yourself get into shape, are wanting to join a gym or just looking for a place to workout every once in a while,
Planet Fitness
is for you. With no pressure, no intimidation, tons of equipment and entertainment you will feel like you belong and can get an awesome workout. I know I feel so much happier when I visit Planet Fitness several days a week.