This post is sponsored by Children's Mercy, all opinions are my own. As part of the #CMHMom team I'll be bringing you the latest from Children's Mercy.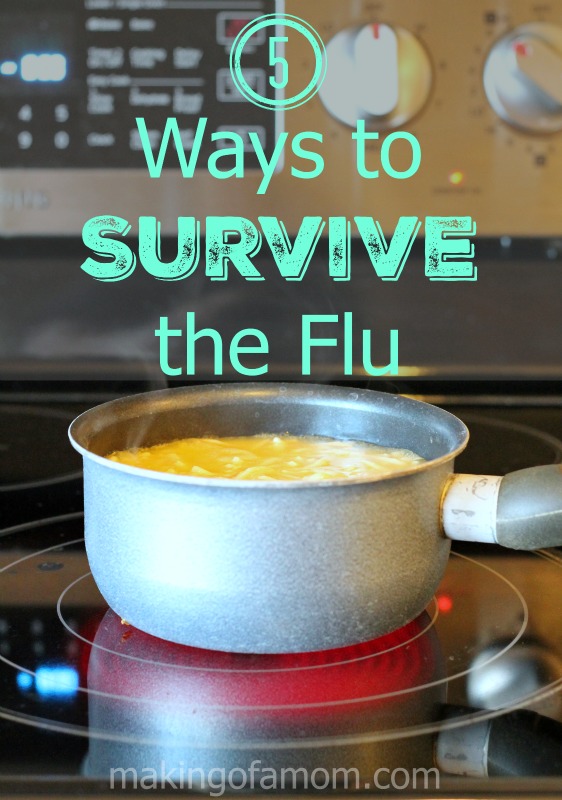 Have you ever been okay one minute and the next minute you are super sick? Maybe the flu has hit your home. It is estimated that this season 20 percent of American's will get the flu.  The flu tends to come on fast, causes a high fever, exhaustion, and may include a dry cough. If you are congested, chances are good you just have a cold that will run it's course in about 2 weeks.
Though it is not too late to get a flu shot this year, if you find you have the flu you are going to be in for a rough couple of days. If you catch the symptoms soon enough you may be able to get help from the doctor in the form of Tamiflu. 
However, there are ways you can come out of the flu still standing. Check out these tips:
5 ways to survive the flu
Get Lots of Rest
One way you are going to survive the flu is by getting lots of rest. If you have kids, you may want to have someone come over and help you out, while you sleep. It's never any fun feeling sick, but one of the only ways you will get better is if you get some rest. Remember your body heals best whenever you're asleep, so try to get as much sleep as possible.
Lots of Fluids
When it comes to having the flu, your body is going to need lots of fluid. As soon as you find out you have the flu, you will want to start downing fluids. Water is the best thing to drink, but you may find yourself drinking other fluids to help flush out the sickness. Lots of fluids is definitely one of the top ways to survive the flu.
Pillows & Blankets
The flu calls for making a pillow and blanket pallet where you feel most comfortable. You are not going to want to get up and down a lot, so make a bed where it's most convenient for you. That spot may be on your couch or right in your bed. Comfort should always be a top priority when it comes to trying to survive the flu.
Pain Reliever
Depending on what kind of pain you are in, you may need a pain reliever to help you feel better. Pain reliever comes in many forms, so make sure you are picking what works best for you! It may take a few tries before you find a brand of pain reliever that works for you! Keep in mind you don't want to try the pain relievers all in a row, wait the allotted time before trying a new one.
Lots of Soup
If there is one way to survive having the flu it would be to eat lots of soup. Whether you have someone make it for you or you muster up the energy to make it for yourself, it's a great way to get some relief. Soup as a way of helping your body fight off the flu. It gives your body energy and nutrients it needs to fight off the nasty germs.
Fighting the flu is not pleasant at all. It can even be dangerous for young kids and older adults.  Hopefully, these tips will make it a lot easier to survive having the flu! If you find yourself really sick and needing medical help, you can visit Children's Mercy Urgent Care.
Get social with Children's Mercy Hospital on Facebook and Twitter.