This post is sponsored by McCormick® but the content and opinions expressed here are my own.
The holiday season typically means an abundance of baking and perhaps extra entertaining. Since I do host a party or two during this time of year I try to change up my recipes so that my guests aren't eating and drinking the same things from year to year. Before I serve the recipe to my friends I test it out on my family. So far this year I have decided to test out zucchini bread and pumpkin spice hot chocolate. Lucky for me Walmart is right down the road and stocked with all the
McCormick® spices
 I will need for these recipes and more! McCormick® spices have been a part of my life as long as I can remember. When I was little I would watch my Mom cook and bake and McCormick® was always a part of that. Now I'm carrying on that tradition and trusting my recipes with McCormick®.
The recipes are each pretty easy! First up,
Pumpkin Spice Hot Chocolate
. This recipe is actually an adapted recipe from my Grandmother. She used to make homemade hot chocolate for me when I was little and I loved it! I took her recipe and added some pizzaz with the McCormick® Pumpkin Pie Spice.
Ingredients:
In a sauce pan heat the milk over medium heat.
Once warm add cocoa powder, sugar and McCormick® Pumpkin Pie Spice. (A little goes a long way)
Stir until smooth and hot chocolate is warm.
Top with whipped cream. Sprinkle a little bit of McCormick® Pumpkin Pie Spice on top of whipped cream if desired.
My kids weren't big fans of Pumpkin Spice Hot Chocolate, but they love whipped cream so they were happy to try it and take a picture. Maybe keep this for a girls night event, or your adult party.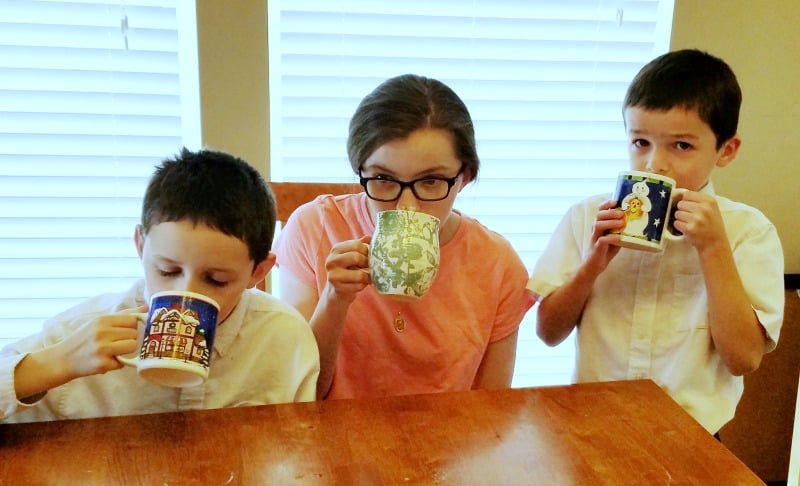 On to the next recipe. This zucchini bread recipe is a family recipe from my sister. She was nice enough to share it with me and we love it!
Zucchini Bread
Ingredients:
1 C

finely shredded unpeeled zucchini

¼ C

cooking oil

1

egg

1 TB

lemon juice

½ C

chopped nuts (optional)

1 ½ C + 2 Tbs

all-purpose flour 

1  C

sugar

1  tsp

½  tsp

baking soda 

¼  tsp 

salt

¼  tsp

baking powder

¼  tsp
Directions:
Preheat oven to 350 degrees F.
In a large mixer beat the eggs until frothy.
Add the rest of the wet ingredients and mix: zucchini, oil, and lemon juice. Beat the batter to fluffy.
Add all of the dry ingredients on top of the wet mixture and gently mix in. Do not over mix.
Pour batter into one loaf pan or 3 mini loaf pans. Bake one loaf for 55-60 minutes. Bake mini loaves for 35 minutes. The tops should be brown and a toothpick inserted in the center should come out clean.
When cool enough to touch, remove from pans and cool completely.
Unlike the pumpkin spice hot chocolate, everyone in my family loves zucchini bread. In fact, we don't call it that at all. I tell my kids it's "spice cake" that way my picky eater boys who don't love fruits and vegetables, will eat it, and they do! I'm so happy to have
McCormick® spices
 to be my assistant in baking for my family.