Disclaimer: We were able to enjoy a fantastic Zip Adventure complimentary in return for my review. All opinions and experiences are my own. Yours may differ.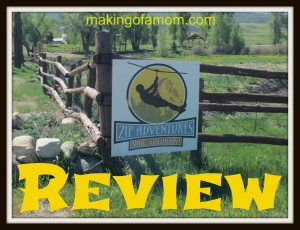 Last week we were on vacation in Avon Colorado. We joined some of my siblings and my parents at a great condo we have stayed at many times before. We LOVE vacationing in Colorado because there are always fun activities, great shopping, cute towns to visit and cooler weather! This year we were able to go on Zip Adventures ziplines. It was a blast! Let me tell you all about it!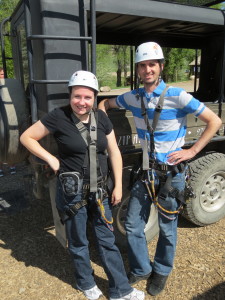 I had printed out a map to get to the ranch where the zip line tour begins but it wasn't very detailed. We ended up lost at first, but after several phone calls found our way. Even though we arrived a little later than what they prefer we were speedy enough with the beginning process that the group left for the zip tour on time!
When we arrived at the ranch we filled out our safety waivers and then suited up- well, harnessed up! I was terrified and it must have shown because several of the workers were very reassuring while they helped strapped me in. We went outside to get into this fortress of a truck and headed off for the zip lines. The zips were about a 10 minutes drive down the road.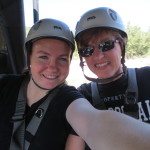 My husband Jason, Sister Leslee (who blogs at Ready for Adventures), niece Taryn and me all headed off on this fun activity together. Along with the 4 of us were 2 other groups of people zipping as well. In all there were 9 customers and 4 guides. After a get-to-know you game we were all friends and ready to face the zips (or certain death) together!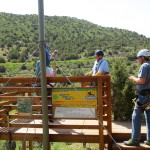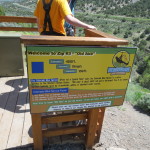 After some rules about zipping and a talking about safety, it turns out that zip lining is quite safe. In fact, it is safer than a chair lift (actually, that isn't hard to believe at all). The joke of the day was that the truck rides to and from the zip lines were the most dangerous part of the day. Logically I could understand that, but my fear of heights and the unknown didn't quite believe the guides.
Zip Adventures takes you on a 6 zip adventure! They start you off small with a measly 450 foot zip traveling rather slowly (in comparison to the ones to come). I was really nervous for the first zip but was reassured that no one had ever decided to quite after the first zip. I braved it through the first zip (with a white knuckle death grip) and decided it was fun enough to carry on! It wasn't until the 4th zip that I was truly terrified, and that was because the speed increased dramatically.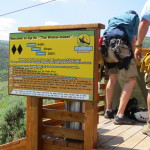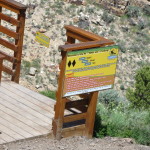 These 6 pictures are the signs that explain each zip line. They each have a name and description of speed, length, and other notable facts about that line. Notice the double black diamonds… they unofficially mean scary!
I was very impressed with our guides. Even though they were very fun and humorous, they knew what they were doing. We all felt very safe with them. They knew how to keep us all safe and instilled confidence in each of us (even among their jokes, and lies of 30 pound rats!). With each zip our gear was checked and double checked to make sure it was still fitting correctly and that everything was still secure.
Each of the zip lines lead into the next zip. Some had a very small hike in between them but the hikes were no more than 5 minutes between any run. At the beginning of a couple of the zip lines little water bottles were passed out and we were even offered otter pops at the top of zip 4!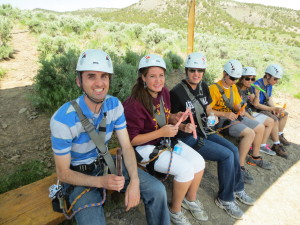 The first 5 zip lines ran over a small canyon with a river running through it. The scenery, when you could take the time to watch it as it zoomed by, was breath taking (quite literally!) There were several points of interested on some of the zips to look out for such as little cascading waterfalls, a point where the little river and a bigger river met and swirled, and a crushed van. I was able to catch glimpses of each of these points of interest as I went. For some of the brave zippers they were too busy zipping upside down to notice these things.
The final zip line ran through the canyon almost to the point where we began. This zip line was about 1000 feet in length with speeds of up to 45 mph!! Notice one of our guides zipping behind us in this picture! I was very nervous, but super excited at this point. I wanted to catch the action of the final zip in a little movie while I went. *Note: There is a lot of wind noise, screaming and be sure to listen for the sound of the zip itself. The pitch of the zip indicated how fast you are going. The higher the pitch, the faster you are going!

Next time you are on vacation in Colorado (or if you live there- lucky you!), look up Zip Adventures! This is perfect for the nature lover, thrill seeker, or someone looking for a good time. I was nervous at first, but a super fan by the end! The customer service is incredible, the safety phenomenal and the fun not to be outdone by anything else!