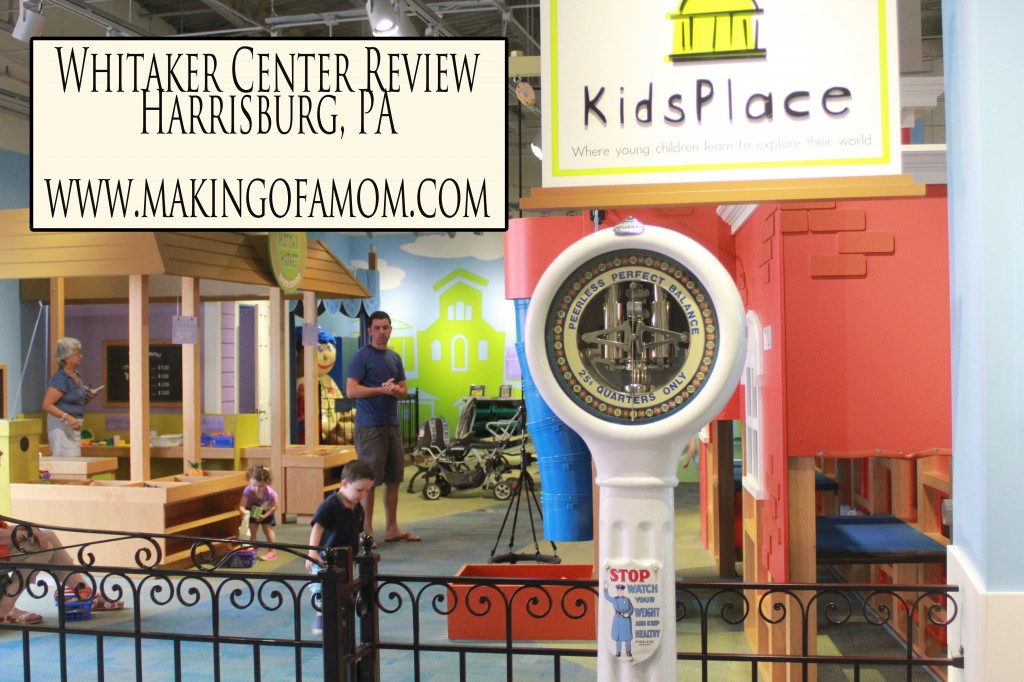 Having been a child (not long ago-ahem), a teacher and now a parent there are not many museums or interactive exhibit centers that blow me away.  Often they seem to all have the same general features with a few unique things here and there.  Don't get me wrong I love a good Children's or Science Museum but had I not been able to visit the Whitaker Center I would have missed out on a fantastic opportunity.  So here they are- the things that the Whitaker Center had that I wish I had thought of- or that I wish I had in my own home!
1. Ok lets be honest here- who doesn't wish they had 6 stories of high definition and complete surround sound every time they watch the tube at home- oh and lets not forget 3D.  Our family chose to watch Journey to the South Pacific.  It engaged both my 3 year old and 2 year old completely.  It was colorful, educational, picturesque and fun.  We were all enthralled by the story of this young boy as he learned the importance of preserving the reefs of the South Pacific.  It made me feel jumping into my swim suit and exploring the sea.  It was beautiful.  My favorite part- sneak peek here- was the night scenes showing the lights on the boat, hearing the bugs outside and nearly feeling the cool air and swaying of the boat.  It was truly magical watching my children try and grab fish as they swam by our faces.  The IMAX is a must do!!
2. The Childrens place was so innovative.  I could not believe the things they thought of.  Some of the things I was most impress with were :
a. the ambulance- with real sounds and lights when you pushed the gas, the break or shifted.  There was a bed in the back with all sorts of medical tools to work on your patients.  My children kept coming back to this. It was great!
b. the market- yes I have seen pretend markets before but I loved that this one labeled where everything went (great for sorting), had tons of different foods including a restaurant style food area, and my favorite part they had a belt at the cash register that actually moved- GENIUS and the scanner really beeped every time a piece of food went past it!  It was so close to real life my kids (and yes- myself) just couldn't get enough!  They even had a little fish tank as part of the market.  Cute cute cute!
c. Check out the amazing water table.  Whoever thought to put the seats in the table really understood  children.  There have been many times I have held my toddler at up to the water table to that she could play but she was always waiting for me to move her here and there and never really had adequate access to the toys and the water.  The built in baby seats were incredible.  I want one of these tables in my home!  Wow! Look at her cute little legs dangling there.  I love this this!
d.  The had a little play stage where you could dress up and act out a story as it was narrated and you could even change the backgrounds.  It was great!
e. There was a climbing structure that looked like a construction building.  It even had a pulley system that allowed the kids to fill a basket with fake bricks and bring them to the top of the building.  My little guy especially loved this! It was so creative and all of the details were there!
We loved the Kids Place.  We started there and then ended there!  It was a blast!
3. My kids loved building their own cars and racing them. What great fine motor science experiment.  They learned that the size of their car was important, they had to collect and identify all the necessary pieces and it was so much fun to put little people inside to go for a ride.
4. There were so many fun hands on exhibits- science experiment exercise tests and games, vacuums and building, rock climbing and so much more.  It was a childs perfect classroom- learning while you play!

5.   The backstage studio was all inclusive- identifying features of movies and technology and how each were created.  We were able to make our own little cartoons by moving pieces slightly and snapping stills to create a movie.  We tested out fog and used a virtual can of spray paint to create a piece of art.  There was so much to do and see and create.
6.  My children and I were in awe of the Ice Age exhibit and all the life size animals that were portrayed.  There were activities to do including coloring cave drawings and playing memory.  Everyone who worked at the Center was helpful and full of information!  It was great to be able to ask questions and get valuable answers.  An additional tidbit- the Whitaker Center is also featuring an IMAX Titans of the Ice Age movie!  What  great way to learn more!
There was so much to see and do at the Whitaker Center.  It is a must see if you are headed anywhere near Harrisburg/Hershey.  The employees were so helpful and kind.  The helped us rush into the IMAX movie that we were late for, the made wonderful recommendations and they were always smiling!  The Whitaker Center also features incredible stage performances and educational opportunities.  So head on over if your local and if you aren't I guess its time to PLAN A TRIP!!