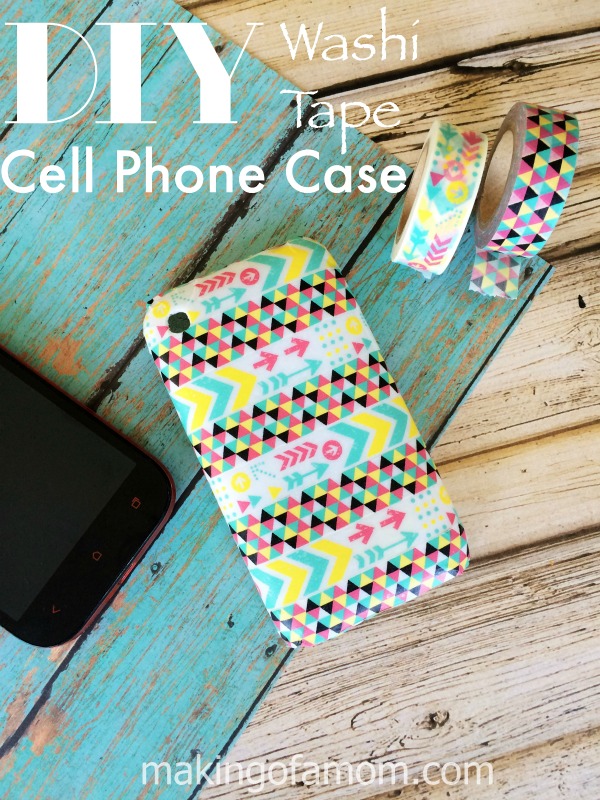 Cell phone cases can be expensive, especially cute ones. Last year I bought some plain white and clear cases so I could decorate them myself. Remember the
sticker cell phone cases
? Anyway, here is another awesome idea to decorate plain cases. These types of cases are easy to get in large quantities on Amazon for not too much money.
Supplies:
Phone case (preferably a solid, light color as most Washi tapes are somewhat transparent and will be able to see through)
Washi Tape – pick two or three fun designs
Toothpick
Directions:
Start by placing a strip of tape on the bottom of the case, and wrapping around the front edges. If the case is curved, use you fingernail to press out any creases to get a good fit.

Alternate between tapes and place the second strip of tape above the first, making sure to wrap around the front edges.

Repeat until the entire case is covered
Take a toothpick and poke a hole where there are openings in the case (ex: camera, speakers, on/off button). If you can tear the excess off then do so, otherwise just press to the inside of the case since it will be hidden anyways.
Don't you love how easy and inexpensive this is to change up your case from time to time? I love Washi tape and I can't wait to make several of these for myself and as gifts.
Do you have other wash tape crafts you like to make? I'd love to know what they are so I can do them too!