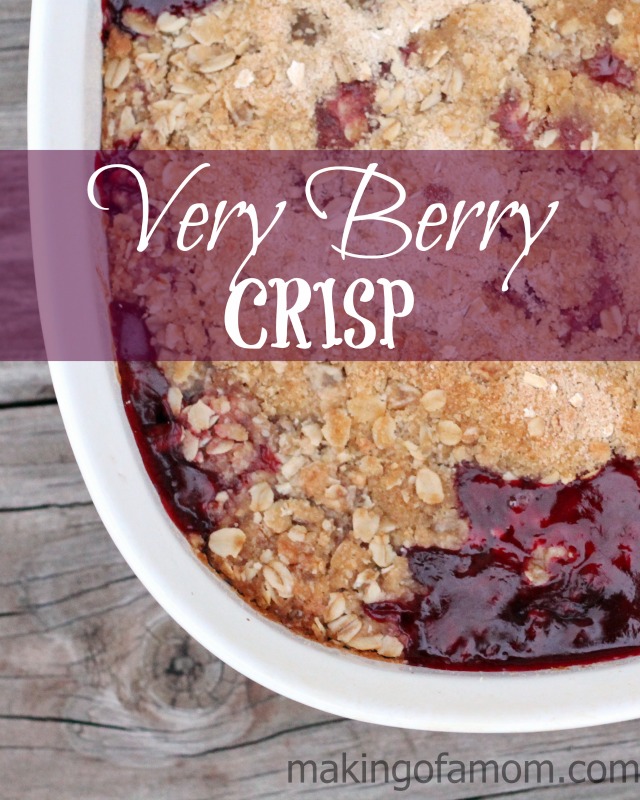 I LOVE berry desserts. Especially when the seasons change and it's becoming warm, I love a warm berry dessert with cool ice cream to accompany it! My mouth is watering just thinking about it.
As I was looking for different recipes and ideas for a berry dessert to make a couple weeks ago, I did some research on cobblers and crisps. Interested in the difference? A cobbler is more cake-like. You make a dough that gets plopped onto the berry mixture and it looks similar to a cobblestone road, hence the name. A crisp is made up oats, sugars and butter. It has a flaky texture and a little crunch to it. I tried a couple recipes for this post, and the crisp definitely wins in my mouth!
Very Berry Crisp
Ingredients:
1 cup uncooked oatmeal
1 cup all-purpose flour
1 cup brown sugar
½  cup unsalted butter, cold
1/3 – ½   cup granulated sugar (depending on how sweet your berries are)
4 cups berries – I used blackberries, strawberries and raspberries
1 ½ TBSP all-purpose flour
Directions:
Mix together oatmeal, flour and brown sugar. Cut in butter until crumbly. In another bowl, mix berries, sugar and flour together.
Grease pan (I used a 9 inch casserole dish, but noticed there was a lot of crisp topping, so next time I would spread out the berries more in a 9×13 pan) Place berry mixture into pan. Spread crisp mixture over top. Bake in 350ºF oven for 45 minutes.