Disclosure: This is a compensated post. Regardless all opinions and experiences are my own. Yours may differ.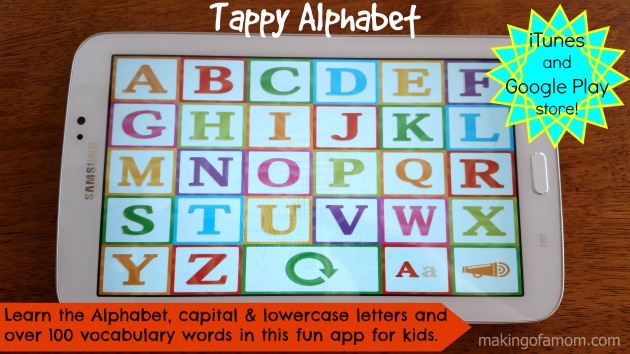 We have a lot of electronic devices in our home, probably too many. We have 3 old iPhones (they were hand-me-downs), 2 Samsung Galaxy S3's, and two Android tablets. Yes, now that I type that out I know it is too many things. The kicker is that each of these devices is loaded with educational apps for my kids. We have math apps, puzzle apps, spelling apps and my newest download is Tappy Alphabet. This easy to use educational app is available in the iTunes store as well as in the Google Play store. You can also get this app for your Kindle Fire in the Amazon App store!  It costs .99 to download. Please note Tappy Alphabet is compatible with tablets, not for phones.
Once I downloaded the app, I started playing with it. I turned the volume up on my tablet so I could hear the app. When you press a letter it says "A, a, Apple" and then flips over a picture of an apple. It does this with every letter. Once the letter flips to a picture, you can tap it again and another picture will flip over. Each letter rotates through 3 pictures that start with the letter.  I LOVE this because it is teaching my 17 month old letters – both capital and lowercase, sounds and easy vocabulary words. Since the volume was turned all the way up, this made a curious baby interested in seeing what I was playing wander over and he wanted to play too!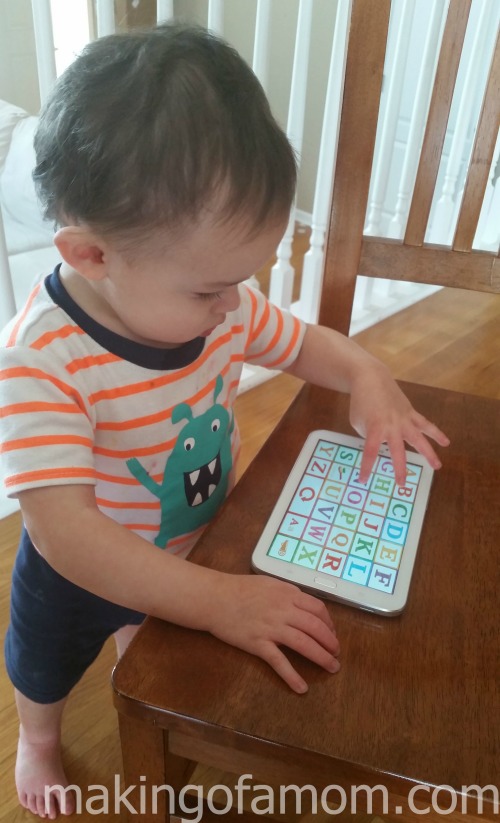 I put the tablet on the chair so he could easily reach and play with it. I LOVE that the app covers the whole screen of the tablet. It provides a large workspace for him to play. I love how colorful the letters and pictures are. He had so much fun touching the letters and the pictures and hearing the sounds and words. As he continues to play with this app I'm confident he will have fun learning is letters, sounds and some easy sight words.
I have had a great pleasure in working with the makers of this app. It was fun to offer some advice and improvements and have the makers listen and use the improvements! The app has undergone a lot of work to make it just right for your kids! Be sure to check out Tappy Alphabet and download your copy today!