I'm excited to partner with Trunki on my Holiday Gift Guide. All opinions are my own.
I LOVE getting my children items that are fun and useful. This morning was like Christmas in October when I told my children to gather in the play room and I brought in an armful of goodies from
Trunki
. The kids were so excited to check out the colorful assortment of items I place in the room.
Trunki send me a Toy Box, a Paddlepak  and a Yondi – kids travel pillow.
Toy Box
Trunki makes the coolest
toy boxes
. Besides storing your toys, they are a toy themselves!! The lids of the toy box has wheels so you can scoot on the toy box! If you buy several toy boxes they connect together to for a train. You can also flip the lid and attach it to the box to make it a rocker. Place a baby doll inside and pretend it is her crib. I love these versatile toy boxes! They are genius!
The toy boxes come in blue/green or  pink/purple. You can purchase them directly from Trunki for $30.
Paddlepak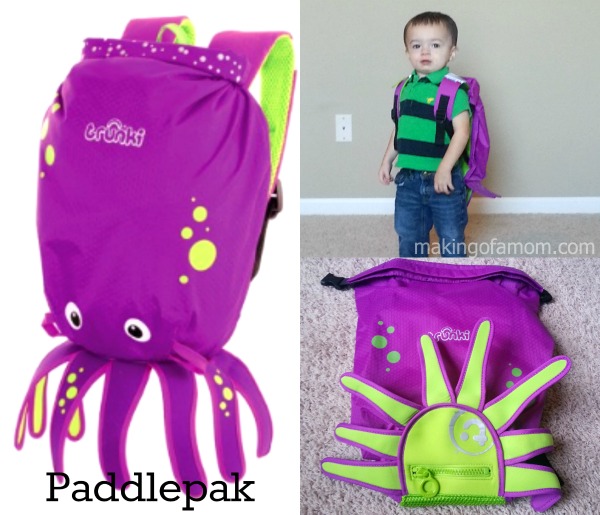 The
Paddlepak
is a darling backpack with a sea creature theme.  Trunki has several different Paddlepak options from fish to frog to lobster and more. They are so cute. My baby immediately took to the Octopus Paddlepak. He doesn't have a backpack like his older siblings and he was so excited to put it on. He is still walking around the house with it on.
The Paddlepack is a perfect size for travel. This unique backpack opens at the top. To close the backpack the top flap folds over 3 times and then buckles. There is also a zipper pocket on the bottom of the Paddlepak. The Paddlepak is also plash proof keeping water out, or in! 🙂
You can purchase this octopus Paddlepak or check out the other creatures on the Trunki Site for $25.
Yondi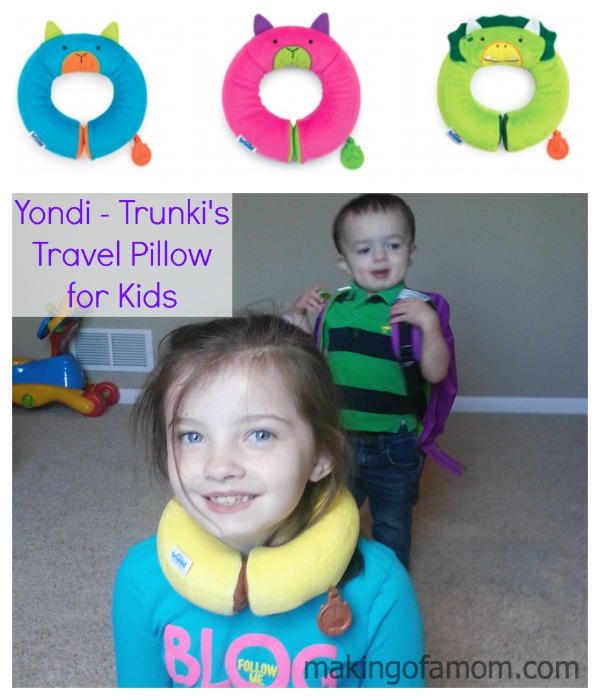 We have several vacations coming up so what a perfect time to get a travel pillow for kids! Trunki called their kid travel pillow a
Yondi.
 They are colorful, adorable and come in tons of varieties. Not shown in the picture is the monkey, fox and owl.
These pillows are perfectly child sized. They have magnets at each end to keep them closed and offer support. The Yondi is available on the Trunki site for $15.
If you want to get your kids something colorful, unique or very entertaining, check out all Trunki has to offer!