Disclosure: I received a free product sample for use in my Father's Day Gift Guide. All experiences and opinions are my own. Yours may differ.

There are 3 main features that makes the DIR-510L D-Link Portable Router and Charger a must have device.
#1 Device Charger
The one feature that I use the most is the device charger. As phones get "smarter" we end up using them more and more which means the battery drains faster and faster. Having a portable charger that you can bring with you anywhere can be invaluable. An example of where this would come in handy was when I was on my way to pickup my mom at the airport after work and my phone died, she was going to call me when she had her bag and was coming out of the airport. I ended up driving around the airport loop until my mom came out to the curb. That situation worked out ok without a phone, but I think about what if my car broke down and I was stranded on the side of the road. With the DIR-510L I don't have to worry about my battery dying.
#2 Personal & Secure Wi-Fi Hotspot
The DIR-510L can turn any 3G/4G, ethernet or  Wi-Fi connection into your own personal internet hotspot in addition to being the worlds first 11ac portable router which is currently the fastest Wi-Fi speed available. Usually you can only plug a 3G/4G adapter in one computer and that one computer can access the internet. But plug it into the DIR-510L and you can share that one internet connect with multiple devices. I use to travel a lot for my last job and some of the hotels that I stayed in only has a ethernet connection for the internet, if I wanted to connect a tablet I couldn't because there was no Wi-Fi in the hotel. With the DIR-510L all I would have to do is plug the etherent cord into it and now I have my own personal Wi-Fi hotspot.
Connecting the DIR-510L to a Wi-Fi connection takes a few steps. After turning on the DIR-510L use your computer or phone to connect to the DIR-510L or DIR-510L_5GHz wireless SSID signal. Once you are connected use your browser to go to http://dlinkrouter.local or http://192.168.0.1. Hit the Log in button (the default password is blank), if you are using a computer you with see a screen similar to the picture above or if you are on a phone youe see something like the picture below. To connect the DIR-150L to the internet click on the Internet option and then find the Wi-Fi connection you want to connect to and select it. (if the Wi-Fi connection needs a password is will ask you for it. Then your device will be connected to the internet through the DIR-510L. This is a great for when you are out and about using free public Wi-Fi. You might be asking yourself why go through all the trouble of using DIR-510L to connect when you could just connect directly to the Wi-Fi signal; well I will tell you why. It may be free Wi-Fi but it does come at a price. Because the Wi-Fi siganl is free and you don't need to log in to connect to it, your internet connection is not secure, so any 14 year old with a laptop and a little know how can download software that can look at your internet traffic seeing all the information you are sending to sites (even usernames, passwords, credit card numbers, or anything you are entering on a website). The DIR-510L has a built-in firewall, so when you connect to the DIR-510L and then connect to the interent you will be protected from internet eavesdroppers.
#3 Store and Share Media
Use the DIR-510L to transfer files from your mobile device to a storage device or even the cloud. There is a free mobile app for Android and iPhone that allows you to stream and upload/download your media and documents from a connected USB drive.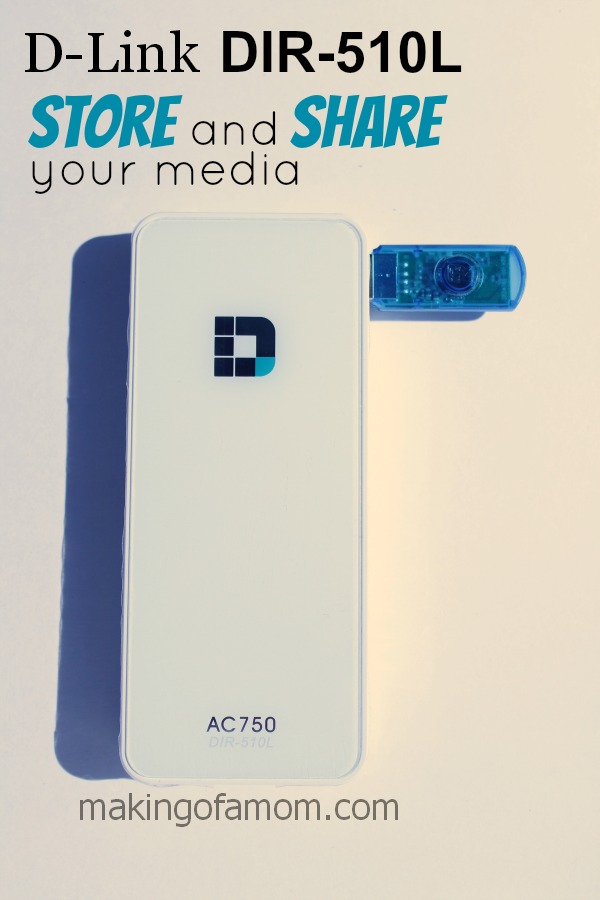 Here is a screenshot when connecting from a computer
Here is what it looks like when you connect on your phone