As a member of the LeapFrog Mom Squad I was sent this product for review purposes. All opinions are my own.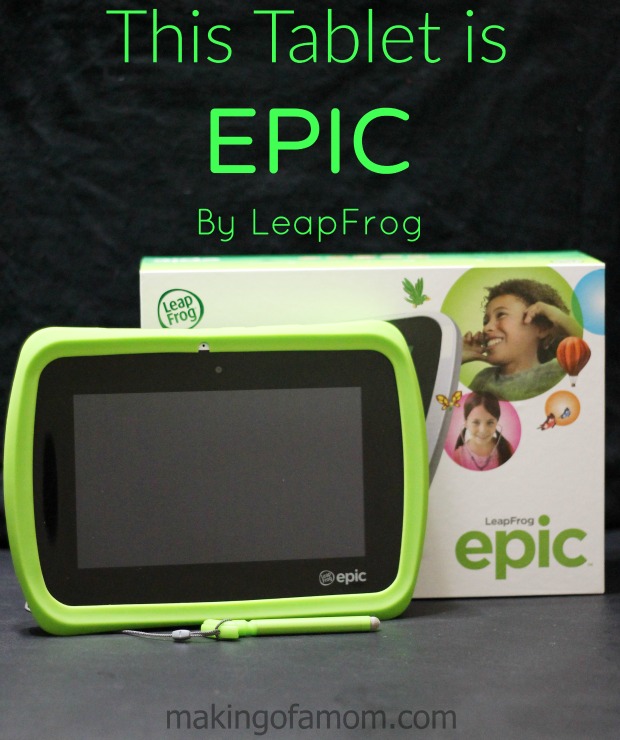 Every child clamors and begs to use their parents tablet to play games and watch videos, but now you can give your kids the LeapFrog Epic Tablet as a safe and fun way for them to feel grown up without sacrificing your own device.  LeapFrog brings another great toy to the forefront this year with this tablet that grows with your child.
The LeapFrog Epic Tablet is a sturdy, durable and fun filled educational tool that your kids will love having.  Not only will you feel more comfortable with this kid friendly case that protects against bumps and falls, you'll feel happy that no matter what they are doing on their LeapFrog Epic they are safe and learning something.
The LeapFrog Epic Tablet features:
Android based operating system.

 This makes the tablet compatible with nearly all popular apps and games.  With the parental control options, not only can use the pre-loaded games, but you can easily add others that you approve from the play store.

Customizable home screen making it "just like a big kids".

 The home screen allows you to customize with icons for favorite apps, or simply use the great floating balloons, moving cars and animals to make it a fun game right when you boot up.  Kids love being able to change out their home screen just like you can with your tablet.

Grows with them as you can add more games and kid-friendly Android based games later.

 It comes pre-loaded with age appropriate games and web-sites (ages 5-6), but you can easily update and add more as they grow.  

Real time weather app and clock.

 For kids that want to know a bit more about the current information, this is just like your personal tablet or smart phone, and is a great addition to teach them more about weather and how to tell time.

Exclusive access to LeapFrog games & apps at no additional cost.

 This LeapFrog Epic tablet comes already loaded with great LeapFrog games and apps.  You don't have to buy separate games for this to work right out of the box.

No in-app purchases or ads to worry about

.  You won't have to worry about your kids running up your credit card by clicking on upgrades to apps or ads like they would on a different tablet or smart phone.

Safe web browsing right out of the box with parental controls for access to more apps and approved websites as your child grows.

You can add approved websites at any time, but still limit access to searches or sites you don't want your kids to view.

16GB Memory Loaded.

 Although it has a decent amount of memory already loaded, you can add up to a 32GB SD card to increase storage capacity.
This LeapFrog Epic tablet is a great addition to your kids education and play time.  You can customize their tablet with the games, videos and applications you approve of to increase their knowledge while they play. The quality of this system is second to none, and it has been designed to give you great safety against common kids mistakes like spills, drops and falls.