Disclaimer: I received free tickets to The Little Mermaid in exchange for my advertisement of The Starlight Theatre.

The Starlight Theatre in Kansas City has had a very fun Broadway series this year. The most recent show was The Little Mermaid going on from July 23-28. My daughter and I were fortunate enough to attend this show through the generosity of the Starlight Theatre. We have lived right outside of Kansas City for a year and half and haven't ever been to the Starlight Theatre. From attending The Little Mermaid and doing some research on their site I have found that the Starlight Theatre I have learned that they sometimes do fun things in conjunction with the shows. For The Little Mermaid there was a fun "Under the Sea" festival full of performers, crafts, games and other activities. This fun festival took place for an hour and a half before the show. Even though it was crazy with people, there were tons of volunteers to help keep the lines running quickly and everything flowing smoothly. It really was a lot of fun.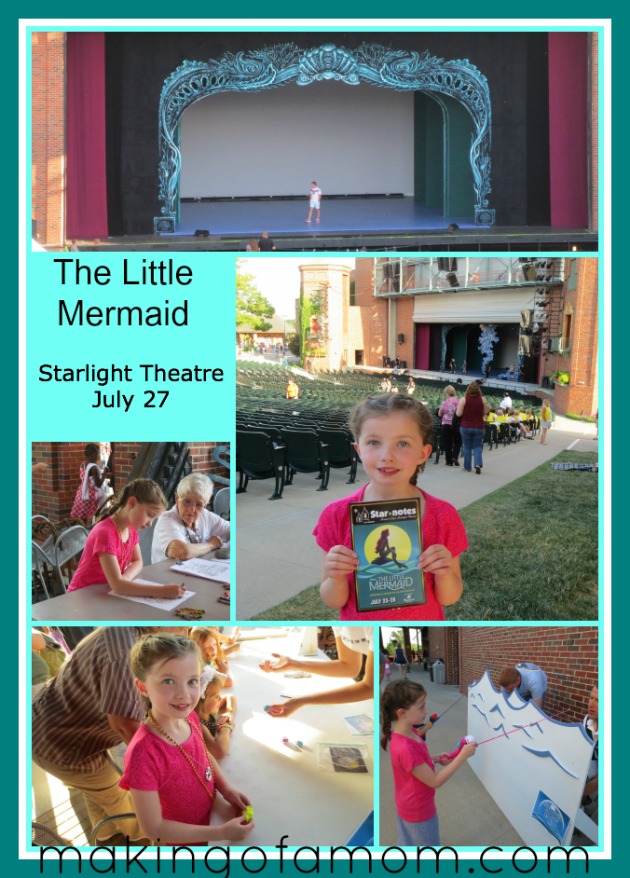 You can tell from the collage above that my daughter took full advantage of this fun festival. She went "fishing", colored a mermaid, got her fingernails painted, made a shell necklace, decorated a fish card and we watched several performances from some very talented local youth. We had so much fun before the show even started.
Once the show was about to begin, we sat down with our giant bag of kettle corn, bottle of water and a boat load of anticipation! The show was amazing. The actors and actresses were amazing! I loved reading about all their previous credits. The show is some what different than the movie, but is very fun, especially with some additional song and dance numbers. Watching The Little Mermaid stage show has gotten me even more excited for The Little Mermaid Event in Los Angeles next week!
The theatre itself is very nice. I was concerned at first about the sound quality because it is an outdoor theatre, but the sound was great. We could hear everything really well. It did get a little chilly, which I hadn't counted on because it has been so hot, so we were a little bit cold, but in the future we will remember a blanket. There are tons of different types of concessions for your enjoyment. There are also several different seating options for different budgets. It is a very nice theatre.
Although the Broadway season is wrapping up for Starlight Theatre, you still have the chance to see the last two shows of the season! Footloose runs August 5-11 and Miss Saigon September 13-18. Be sure to check the Starlight Theatre website for ticket and show information. Perhaps I will see you there!