Disclosure: I was invited to a media event and received a complimentary lunch. All experiences and opinions are my own. Yours may differ.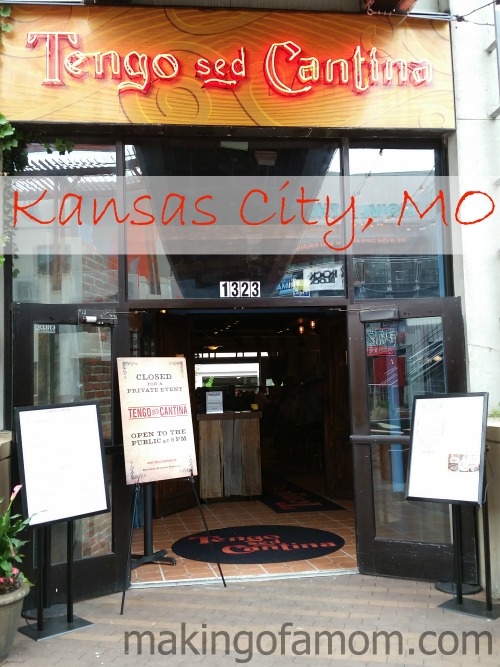 Downtown Kansas City has a neighborhood called Power & Light. This "district" appeals to the nightlife attracting a younger crowd (in my opinion). The Sprint Center, which is Kansas City's huge event center, is also in Power & Light so when there are events taking place, Power & Light gets very busy.  It is a fun place to visit, especially at night because of the music, lights and ambiance of the district.
This month I was invited to attend a media event at Tengo Sed Cantina, which happens to me smack in the middle of Power & Light. This casual lunch was very fun to attend as I had never heard of Tengo Sed Cantina before. Tengo Sed Cantina had been closed for the past month undergoing renovations. Myself along with Heidi (from Save More, Spend Less with Heidi, you can read her review here) were on our way to SoFabCon (a blog conference) and stopped off for lunch first.
We were happily greeted by a very nice hostess who sat us immediately in a booth. We were handed a small menu of the lunch items they were featuring at this special lunch as well as the regular menu to browse. Heidi and I decided we would each get different things so we could both try them.
We shared the Chips & Guacamole, which was very good. I love that they added a slice of lime, as I always take my Mexican food with lime juice. They added an interesting ingredient to the guacamole – radish slivers. I didn't mind then and actually didn't really notice they were there.
Heidi got the Marinated Grilled Chicken Tacos with Spicy Kale and Coleslaw. Her dish only came with two taco, which I thought was a little small but there was also a side plate with rice and beans. I tried a bite of the tacos and thought they were very good. I hadn't ever had Kale before, and while I probably couldn't taste exactly what it was like because of the sauce on the tacos, it accompanied the dish very well.
I got the Tengo Sed Cantina salad. I didn't read the description on the main menu to see what was included in the salad, but from looking at the picture you know there were a ton of things loaded onto it. The salad was made up of, what we lovingly refer to at my house as "weeds". I would have loved to have this field green mixture also include some romaine or other lettuce you usually see in a salad instead of just the "weeds". I didn't love the salad dressing on the salad because it was slightly bitter. The portion size was spot on! Had I finished it, I would have been sufficiently stuffed, but since our servers brought dessert before I was done, I thought that looked more appealing and put my salad to the side. I'm not sure if the restaurant was getting full and they were rushing us or not. It seemed weird and a tad annoying that they brought dessert before we were finished with lunch.

 Dessert was the highlight of this meal for me. We were served a small sampling for three desserts – which we had to share. Apple Cinnamon Churros, Dulce de Leche ice cream, Mini Cheesecake with Sweet Crema and Mint. Definitely the best option of the three was the Apple Cinnamon Churros. They were warm and crunchy and just GOOD! The Dulce de Leche ice cream wasn't anything special (and it would have helped to have been given a spoon to eat with) and the cheesecake tasted more like cream cheese than anything else. Definitely no hint of mint.
Though this review of  Tengo Sed Cantina isn't glowing, I really would like to try it again. I wouldn't call this restaurant family friendly (if you have young children, like I do), so it would definitely be a date night with my husband. I would like to try a couple other menu items and definitely visit again with my friend the Apple Cinnamon Churro!
Tengo Sed Cantina can be found at:
Power & Light District
1323 Walnut Street Kansas City, MO 64106
Phone: (816) 442-8124
Related articles across the web