As the tax filing deadline approaches (are you done yet?) let me take this moment to share a tip I learned from my friend Jenni at Sweet Pennies from Heaven. We were talking about how to keep receipts organized for our websites, so that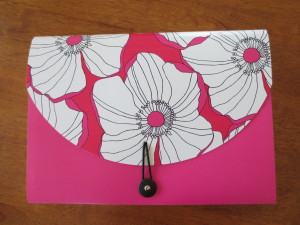 when tax time comes and we need to deduct our website expenses it would be easier to do. She suggested getting 12 folders and labeling them each month of the year and then adding the receipts to the appropriate month. GENIUS right?! Well as I was shopping I came across this cute file organizer and decided to go this route.
I like this filer better than the 12 folder idea because it is just one thing to store and carry around. This filer has 13 pockets that I have labeled with each month so I can be organized. I like that it is big so that a full sheet of paper will fit inside because that is how big some receipts are. I love how cute it is!
I think this method of filing receipts is definitely the way to go, especially if you need to sort receipts in different categories. This cute filer is just for my website, we store our household receipts in a different place. You could get a couple of these for your different categories: household, business, children… however you categorize and organize for your deductions.
I like to do my work on the front end so that when taxes come due, I am ready to go without a lot of hassle. Sorting your receipts throughout the year will help you be prepared for tax time without scrambling to organize things. Next year me and my website will be prepared!