Every year my family sits down together to create our Family Summer Bucket List. We list things we want to do and things we hope to do. Some of my kids dream big so it is listed with the understanding that we might not get to everything. When the Kansas City T-Bones baseball team reached out to partner for a sponsored post, I was really excited and we added the Kansas City T-Bones to our bucket list. I had been to a game last year but this was my family's first time. It's a lot of fun and should definitely be added to your Family Summer Bucket List. Here's why!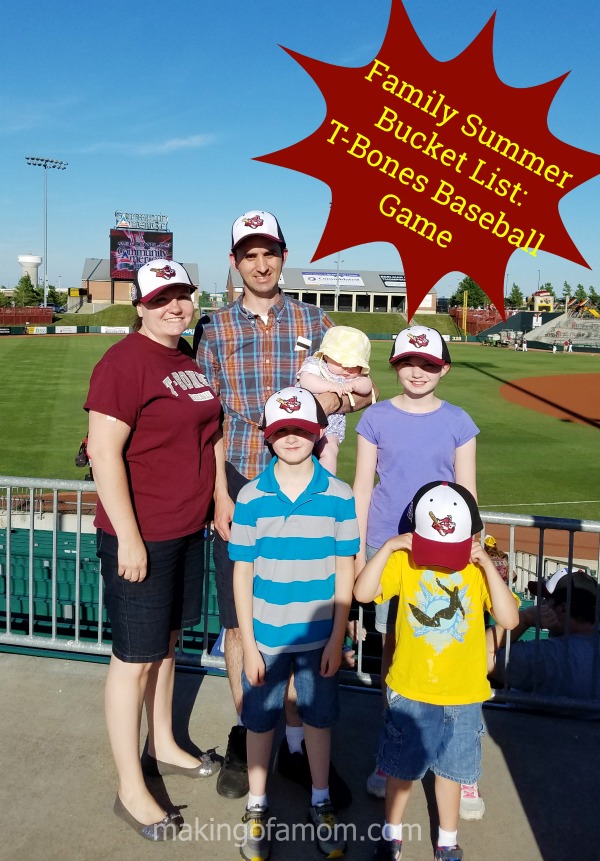 Walk up and buy your tickets. Attending a T-Bones baseball game can be thought out or last minute. No worries here, you can walk right up to the box office and by your tickets on the spot.
Tickets start at $10. Even with a big family like mine, tickets start at $10 each so it's a very affordable family activity.
Free parking! You don't have to factor in parking costs for this night of fun. You can park really close to the stadium and it's free.
Relaxed stadium atmosphere. The stadium is small and very laid back. Where we were sitting close to home plate there were only 18 rows of seats, then box seats above. This is so manageable for families. No feelings of vertigo walking down steep stairs high above the field. It's all close and comfy. There are no bad seats here! <center<

Sizzle is out about so snap a photo with him! Since the stadium is smaller, Sizzle, the T-Bones mascot, is able to walk around and take pictures with everyone that wants one! My kids were so excited to meet him and grab a picture.

Awesome summer promotions! As most sports team do, the T-Bones offer some really fun promotions for select games throughout the summer. We were there for the 15th Anniversary Hat giveaway. It's such a cute hat and now we can show off our fandom wherever we go. There are some really fun promotions still to come this summer. On July 7th it's pirate and princess night! Dress up and you might be surprised by appearances from some of your favorite princesses. July 23 is national hot dog day. Don't miss this promotion because hot dogs are $.50 each! AWESOME DEAL! There is also a hot dog eating contest, if you're into that. 

Let your kids play! There is a playground in the stadium! What?!?! That's right, if your kids lose interest in the game at some point, mosey on over to the playground with swings, slide and even bounce houses (note: those do cost $1 to jump). 

Fun and Games. Show up early and sign up to participate in the little games and activities that happen throughout the game in between the innings. Show off your corn hole or funning in costume skills!
Great food! Of course there are awesome hot dogs, it's a baseball stadium. But there is other great good as well. Get some yummy pizza, tasty nachos, cool off with dipin' dots and other delicious selections. There are several food vendors to choose from.
Wholesome family fun. Overall, the biggest reason I believe a Kansas City T-Bones game should be on your list is because it's just wholesome family fun. The music selections, games, announcers, everything are appropriate for all. I didn't ever feel nervous about what my kids might see or hear. We had a great time and they are asking to go again soon. And with all the reasons listed above, I don't see why not. Hopefully I'll see you at a Kansas City T-Bones game soon!
Giveaway
Want to attend a game? Maybe you can win some tickets! The Kansas City T-Bones are happy to be giving away FIVE family 5 packs of tickets!! That's incredible! 5 WINNERS will receive 5 tickets to the July 4th game that starts at 7:05pm! There will be fireworks! Good Luck!