Kids love pretend play. Since they can't wear costumes to school, there is a way to help them look and feel like superheroes, without going overboard.  Here is a little tutorial on how to make some 'super' shirts.
Super Shirts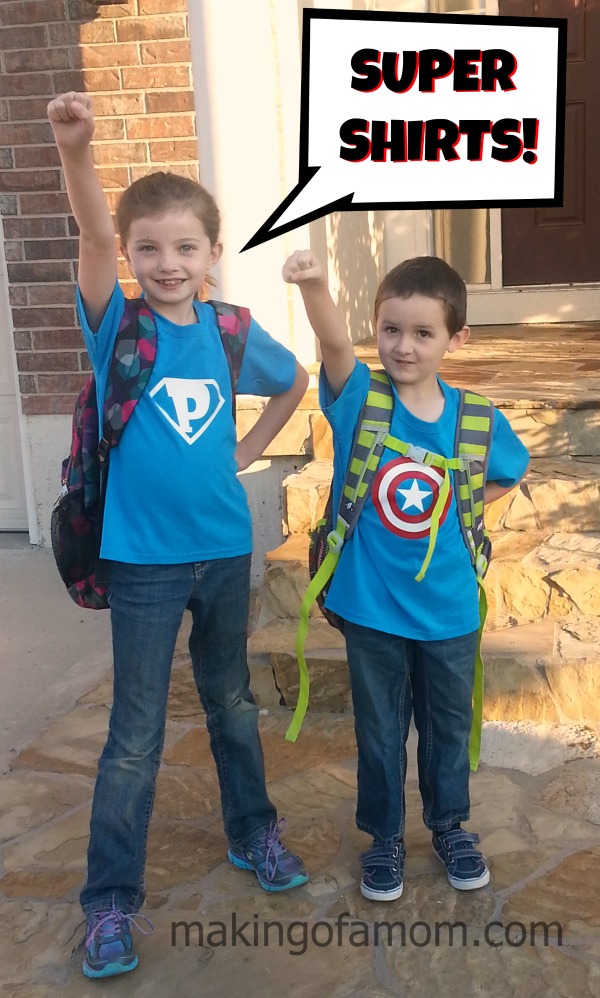 Our two kids came home from school on Friday and said that Monday was 'Marvel Monday' which meant that the students could wear some kind of super hero apparel to school that day. We have a few super hero costumes around the house but we thought that it would be a bit much to wear that to school. So we decided to make some.
Materials:
t-shirts
heat transfer material (red and white)
Super Shirt:
I found these super symbols on pinterest one day and filed them away for a possible future project (which ended up being this one). The great thing about is that the file has every letter, so I just copied the 'super P', put it into Silhouette Studio and cut it out.
Captain America Shield Shirt:
This was the first time we have attempted to use two colors of heat transfer vinyl, applying them not at the same time and it worked out quite well. Using a blue t-shirt all we needed two red circles, one white circle and a white star. The red circles went on first and the shirt was left to cool off. Then the white circle and the star.
 Captain America Shield Shirt Steps:
Put the red layer on the shirt
Iron on the red layer
Let the shirt cool
Put on the white layer
Iron on the white layer
Let shirt cool
Done
Cut File Download
The kids loved wearing their shirts to school, they said that they had a 'Super' day.