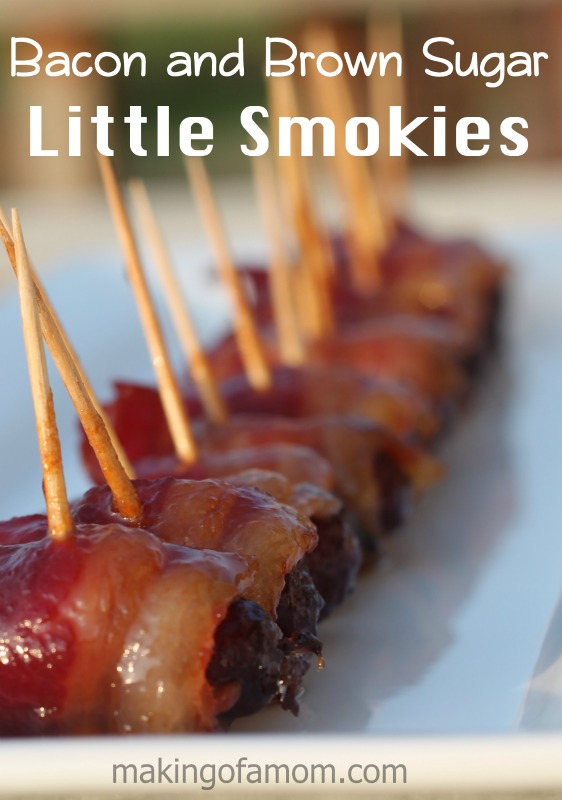 Sweet and savory just go together! I love the combo and my kids love the combo. It was only a few years ago that I discovered Little Smokies but since then this sweet and savory snack, that is really easy to make, has been a go to for holiday parties and entertaining. The process is easy but it does take some time. It takes time wrapping 30+ Little Smokies and then cooking the bacon until it's on the crispy side also takes time, but nothing about this is hard!
Bacon and Brown Sugar Smokies
1 pkg Little Smokies
1 pkg Bacon – cut in half or thirds
2 cups brown sugar
50 toothpicks
Directions
Once you cut the bacon in half (or thirds, depending on how thick you want the bacon wraps, wrap each smokie sausage with a piece of bacon. Pierce with a toothpick to hold the bacon on the smokie. Place each smokie in a 9×13 pan. Cover with 2 cups of brown sugar. Bake at 350 for about 30 minutes, or until bacon has desired crispiness. Serve warm on serving tray.
I always get compliments when I take these to parties or when I serve them at my own gatherings. They are always the first thing gone and never have any left overs. This is a delicious appetizer that adults and kids both love. I really recommend adding this to your next party menu!