I receive monetary compensation from General Mills and SC Johnson in exchange of my endorsement of Box Tops For Education.
Thinking about back to school in the thick of summer break isn't ideal, but I love getting a head start on being prepared. Not only am I getting my kids and household ready by stocking up on "school food," I'm also trying to help my kids schools by buying General Mills and SC Johnson products with
Box Tops for Education
on them. I started my stock up process at Sam's Club and found a bunch of snacks, breakfast and lunch foods that my kids will love!
The Box Tops for Education program started in 1996 and has grown exponentially. Thus far, schools in America have earned over $868 million dollars. School use the Box Tops for Education money to buy things they need such as supplies, computers and other equipment. It's easy as parents to support the program by purchasing items with the Box Tops for Education on the packages, clipping them and sending them to school with our kids.
After each shopping trip my kids gather all of the Box Tops items we purchase and clip them. They each store their Box Tops in a Ziploc® brand bag (which right now at Sam's Club has 8 Box Tops on the box!!) and once they have a nice stack, they take them to school.
My 5-year-old is so excited to start Kindergarten this year and to begin contributing to the Box Tops for Education for his school. Sometimes during the school year the school will also offer incentives to participate, but the joy my kids get from clipping and turning them into their teachers is motivation enough for them.
Since schools can earn up to $20,000 a year I say we get started buying the items we love and clipping the Box Tops for Education to give to our schools. It's an easy to way help from purchasing items I would buy anyway. We are ready to kick off some awesome Box Top collecting for this upcoming school year!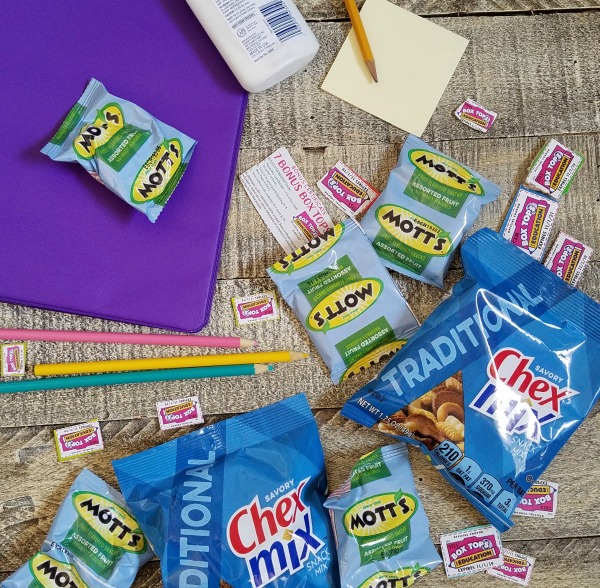 For every 3 participating BTFE products purchased in a single transaction at Sam's Club on or after 8/1/18, you can earn 100 Bonus Box Tops. To redeem offer, you will need to download the Box Tops Bonus App and scan your receipt with 3 participating BTFE products by 9/30/2018 or while supplies last. Maximum of $150,000 in Bonus Box Tops combined may be redeemed for Sam's Club offer. Standard Data Rates May Apply. Learn more at www.SamsClub.com/BoxTops. Each box top is worth 10 cents to redeeming school when clipped from box tops products and sent to the redeeming school. Only BTFE registered schools can redeem box tops. Limit $20,000 per school per year for box tops redeemed through the clip program. See www.boxtopsforeducation.com for BTFE program details. © 2018 General Mills. All rights reserved.