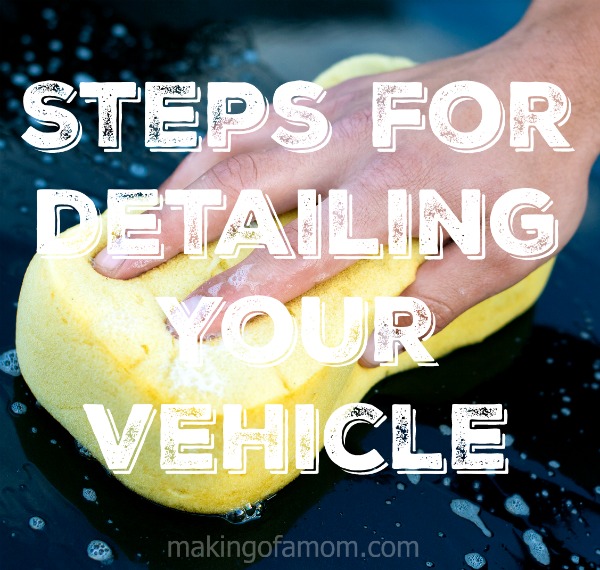 Have you ever wanted to detail your vehicle? Well, instead of paying someone to do it, you can easily do it yourself. Although detailing your vehicle will take some time out of your life, it's worth it to have that fresh and clean vehicle. Check out these steps for detailing your vehicle.
Step One: Empty out your vehicle. You'll want to take everything out of your vehicle, so you can clean every in every corner and crevice.
Step Two: Vacuum out your vehicle. Perhaps the biggest step in detailing your vehicle is making sure you vacuum correctly. If you have kids, you know there's probably a lot of dirt on the floor of your vehicle. Vacuuming is going to make your car look and feel fresh.
Step Three: Scrub the Carpets. Before you do anything else in your vehicle cleaning wise, you'll want to scrub the carpets with a stuff carpet cleaning brush. These are usually available at car washes.
Step Four: Clean your tires. Now that you have pretty much mastered the inside of your vehicle, you'll want to clean out the outside of the car too. This comes down to washing your tires. Believe it or not, but traditional car washes won't clean your tires very well. You'll want to hand scrub those, so they look nice and shiny.
Step Five: Hand wash your vehicle. Nothing gets the dirt and grime off of your vehicle like scrubbing it by hand. Make sure you use a car friendly soap and get to work. It may take a while to scrub down your vehicle, but it'll be so worth it when you see how shiny it is.
Step Six: Wash the car windows. This step requires you washing the windows from the inside and outside. You may have quite a bit of grime built up and washing your windows will eliminate this grime.
Step Seven: Quick wipe down of the inside of the car. Usually the dashboard is just a little bit dusty, so a quick wipe down will help take care of this issue.
Detailing your own car may be time consuming, but you can save a ton of money. Did you know that car detailing can cost as much as $150 each time? Which is okay if you have the extra money, however, this step by step for detailing your vehicle works great!
Want a new car to detail? Check out Sheridan Ford Sales and start detailing your own new Ford!