This is a Sponsored post written by me on behalf of Arby's. All opinions are 100% mine.
I recently saw a commercial on TV for the new Arby's King Hawaiian sandwiches. There are two new sandwiches to choose from when you visit an Arby's. They are Arby's KING'S HAWAIIAN roast beef sandwich that comes with an extra helping of freshly sliced roast beef, piled high on a soft and slightly sweet KING'S HAWAIIAN bun and an Arby's KING'S HAWAIIAN Roast Beef & Swiss sandwich has the same extra helping of roast beef and KING'S HAWAIIAN bun, topped with Swiss cheese, crunchy pickles and creamy Dijon spread. Why not skip making dinner tonight and head to Arby's to try these news sandwiches?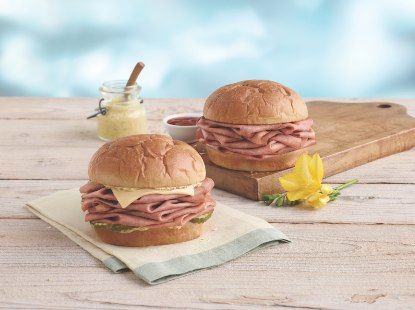 To celebrate this  partnership of deliciousness, Arby's is sponsoring a Hawaiian Getaway sweepstakes for a chance to surf in paradise! The grand prize winner will receive a round trip for two with four nights stay in Honolulu, HI. Plus a premium group lesson at one of the island's premier surf schools, Hawaiian Fire. I know I was recently in Hawaii, but I'm ready to go back! 🙂 For more details about the sweepstakes and to enter visit the Arby's Hawaiian Getaway Sweepstakes. Contest ends May 26 so HURRY!