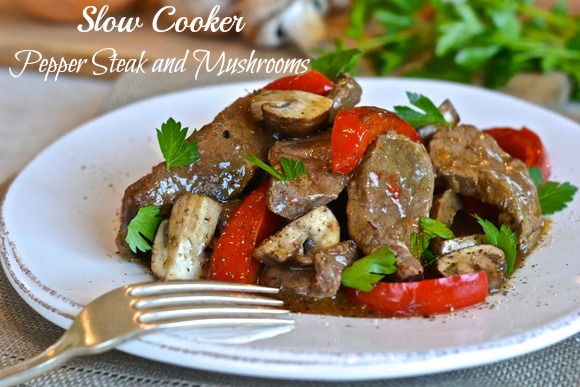 This week 
eMeals
 is shaing their 
Paleo Meal Planning
. I love that eMeals has meal plans for all different kinds of dietary needs and wants. There are tons of plans to choose from including Breakfast, Lunch, 
Dessert Plan
, Low Carb, Low Fat, Slow Cooker meals, 30 Minute Meals and more! The choices are amazing and meant to help you avoid the headache of meal planning. Today I'm going to showcase a recipe from the Paleo Meal Plan.
Slow Cooker Pepper Steak and Mushrooms
Ingredients
11/2 lb top round steak, partially frozen (or use London broil steak)
2 red bell peppers, sliced lengthwise into strips
2 (8-oz) pkg baby bella mushrooms, quartered
2 cups organic chicken broth (or use beef broth)
3 cloves garlic, minced
3 Tbsp coconut aminos soy-free sauce
1 Tbsp sesame oil
1 tsp ground ginger
2 Tbsp arrowroot
Chopped fresh parsley (optional)
Instructions
Slice partially frozen steak across the grain into 1/4-inch thick strips. Place all ingredients except arrowroot and parsley in a 4- to 6-quart slow cooker. Cover and cook on LOW 7 to 8 hours or until beef is tender. Increase heat to HIGH. Whisk together arrowroot and 2 Tbsp cold water; add to cooker, stirring to combine. Cover and cook 15 minutes or until sauce is thickened. Season with salt and pepper; sprinkle with parsley, if desired.