Though this is a sponsored post, all opinions are my own.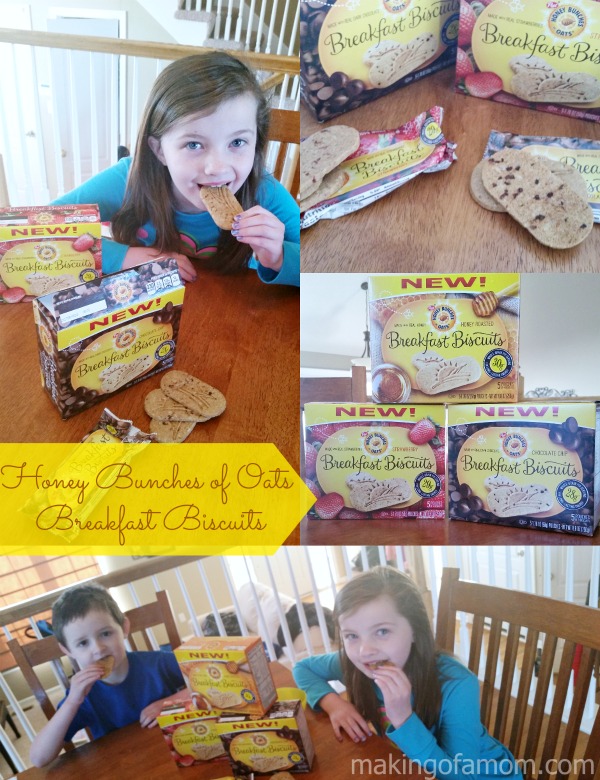 As a busy Wife, Mom, and blogger, I don't have time (and let's be hone, desire!) everyday to whip up waffles, pancakes, and other busy breakfasts every morning. Some days are just plain crazy. Big meals in the morning are just not my thing. I always go for fast and easy breakfasts. I figure I can spend my time in the kitchen over the stove in the morning or spend time giving my kiddos extra precious hugs and cuddles before they're off to school. I want them to start their day with love and a full tummy.
I'm so excited that our favorite breakfast cereal – Honey Bunches of Oats is coming out of the bowl and into an on-the-go breakfast biscuit. Check out my pantry. I stock my pantry with fast, easy, and yummy breakfasts that my kids can grab for themselves on the way to school or to keep in their backpacks for a quick and healthy snack. I want my kids to feel like they are equipped for their day with energy, snacks, and love.
This is why we absolutely LOVE the New
Honey Bunches of Oats Breakfast Biscuits
. I really like that they are 100% whole grain to give my kids lasting energy throughout the day at school. There are three flavors: Honey Roasted, Strawberry, and Chocolate Chip. All three are so yummy. My kids love to dunk them in milk too. It feels like a treat, but it's actually breakfast. My kids think they are getting cookies for breakfast!
We love that they aren't just any old plain biscuits or crackers. They are full of delicious chocolate and strawberry chunks. My kids love the flavors. I will tell you a secret. As a Mom, I love them too! I keep a few extra packages of them in my purse for when I am out and about at doctor's appointments, shopping, or in the carpool line.
So good! Have you tried the New Honey Bunches of Oats Breakfast Biscuits? What is your favorite flavor?