The Back Story
It's my brother's birthday next week so I decided to look on pinterest to see if I could find anything 'pinteresting'. After a little bit of digging I found this:
Fan-tashe-tic Birthday Card
This post is more of a show and tell rather than an actual tutorial because all it takes is a rectangle some text and and mustache picture. Here is card designed in Silhouette Studio.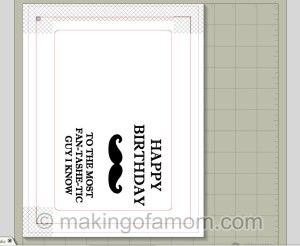 Just as a small side note, I went with the traditional mustache look on the card but there are tons of different mustache shapes out there so feel free to insert your favorite one.
Here is the download for the cut file.

The Silhouette store has monthly sales so be sure to check the bundles and special materials sales. Use discount code MAKING for an awesome sale price!
Last week's tutorial was how to make a St. Patrick's Day Pixelated Shamrock Pop-up card.
Have an idea for a project you would like to see as a tutorial, leave your idea as a comment or send an email.