I received a free toy plus compensation for this review, however, all opinions are completely my own.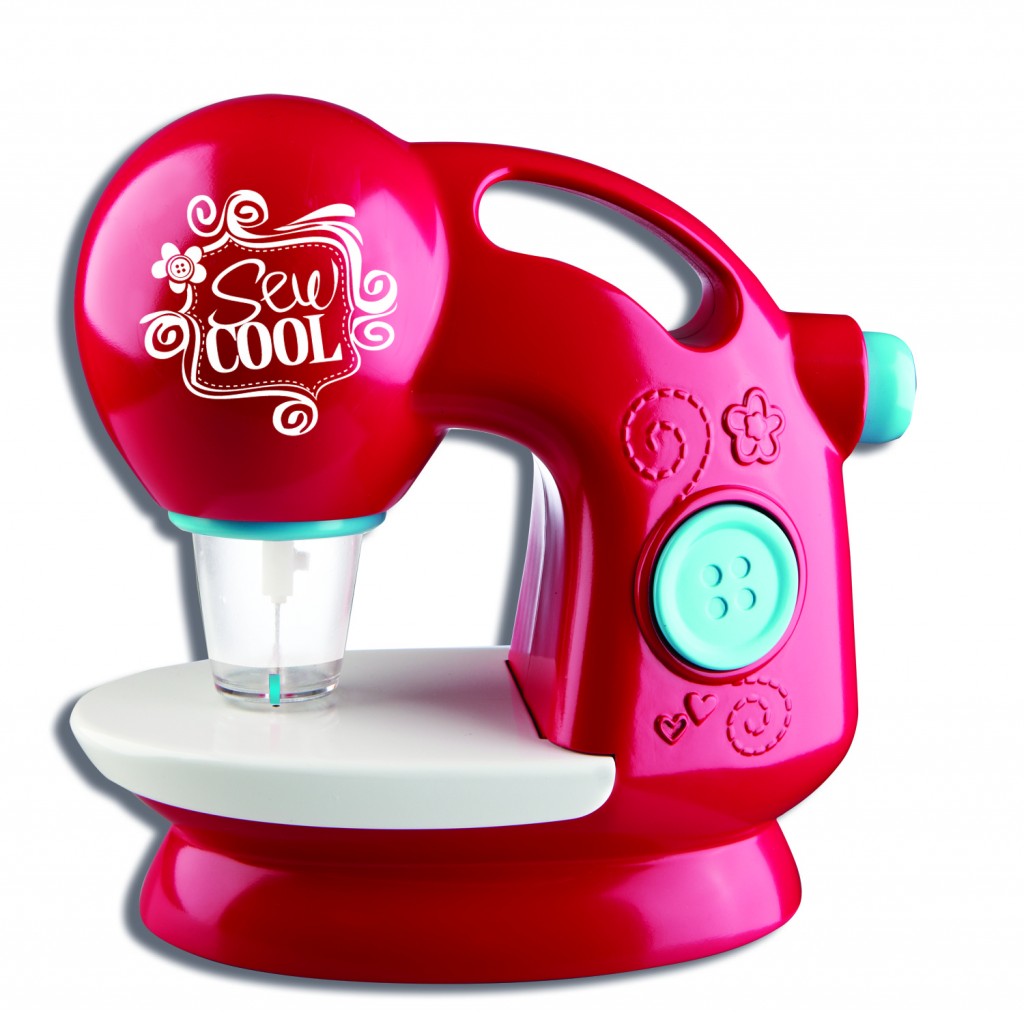 I didn't get my first sewing machine until I was 22 and graduating from college. Even then I didn't know how to use it. Luckily I had some friends that were willing to go slow and help me and plenty of blogs with tutorials got me through my beginning stages. I think my daughter is pretty lucky to be getting Spin Master's Sew Cool Sewing Machine ($29.99) at the age of 9. This threadless sewing machine is on Walmarts Top 20 Toy List that was chosen entirely by kids.
For the past two years Walmart wanted to know the toys that kids thought were the hottest toys of the year, so they gathered hundreds of kids from ages 18 months through 12 years and turned them loose to play with the hottest new toys from Hasbro, Mattel, Spin Master and Zing. From this extreme play time Walmart came up with the "Chosen By Kids" Top 20 Toy List.
The Sew Cool Machine happens to be on that list and is one of several "creative" toys on that list.
Now girls can start sewing in a safe and creative way! The Sew Cool Machine is a revolutionary threadless device that's perfect for a first time experience. It has everything you need to start sewing right away. Create nine projects from start to end. This threadless sewing machine includes patterns and pre-cut shapes for purses, pouches, characters and more. Encouraging imagination and hand eye coordination, young sewers will love it because they can do it by themselves. Start creating today with the threadless miracle that's Sew Cool!
The Sew Cool Machine comes with 9 projects ready to go. I was so excited to sit down with my daughter and do some sewing together.

The Sew Cool Sewing Machine has easy directions that are very helpful to get you going on the projects. It is really easy to jump right into sewing. After reading the directions with my daughter, she caught right on and jumped off into her world of sewing. Though this is just a toy, I feel like it is a great beginning step to learn how to sew.
Included with the sewing machine are some simple projects that require the use of a pattern. I love that not only is my daughter learning the basics of sewing but she is also learning about how to use a pattern. This is a very simplified, basic version, but it is a super starting ground for her.
This machine is threadless. It is basically like a needle felting machine. There are three needles on top and three on the bottom that are pushing the fibers into each piece of fabric essentially "sewing" it together. There is needle guard to protect littler fingers from getting anywhere near the needles. I feel like this is a safe toy that is easy to use and I would let my daughter experiment with projects alone if she wanted to.
Walmart wants to make sure you get the best prices on all your holiday gifts this year. The Savings Catcher app is PERFECT for this. The app is free to download. Every time you shop at Walmart your receipt will have a special QR code on it. Simply scan the QR in the app and Walmart will automatically search to see if there were lower prices else where; if there are, you get the difference. I've been using this app for about 2 months now and I have earned $23. The app keeps track of your savings and will create a gift card for you when you are ready to cash out. It is so awesome!
Walmart also has a great layaway program. If you have certain gifts you want to buy but need to spread out the payments, Walmart Layaway can help. There is no opening fee and a small down payment, either $10 or 10%, whichever is greater. Check the site for more details.
Is the Sew Cool Sewing Machine on your shopping list this holiday season? Which of Walmart's Top 20 toys do you love?